Hands-On: Affinity Photo is the Photoshop Alternative You've Been Waiting For
The most affordable package option for the latest versions of Adobe Lightroom and Photoshop costs $110 a year. If you are a photographer, you know that every cent you can reinvest back into your hobby or business is well worth it. With that being said, there may be an option on the market that is not only a better value compared to Adobe's Creative Cloud, but also blows it out of the water in terms of performance – that piece of software is Affinity Photo for Mac.
Serif Europe is a company that has been producing consumer design software since 1987. The company's goal is to 'develop low-cost alternatives to high-end desktop publishing and graphic design packages'. A few years ago, Serif introduced their pièce de résistance with the Affinity collection. First came Affinity Designer, a vector art and design tool that was awarded one of the Mac App Store's Best of 2014. Recently, they have introduced Affinity Photo Beta: a direct shot at Adobe Photoshop.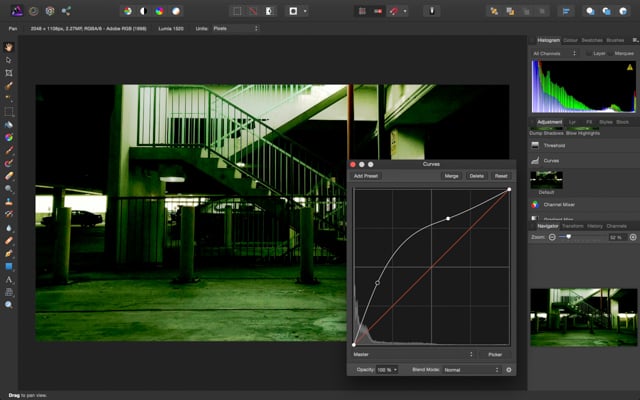 The software is still in beta but we decided to download it and give it a try nonetheless. I want to preface this hands-on by noting two things. The first is that I am a long time user of Photoshop and have been using it for the last half decade without any complaints. The second is that in comparison to Adobe's Creative Cloud, Affinity Photo will only cost a one time fee of $50 upon launch.
Optimization for Mac OS X
Let's start off by talking about Affinity Photo's Mac optimizations. Unfortunately, this particular piece of software is only available on the Mac platform, so if you are running a Windows or Linux machine, then you are out of luck. However, if you do happen to be using a Mac for your work, then you will find Affinity Photo is tuned to take advantage of almost every feature that OS X Yosemite offers.
Unlike Photoshop CC, which is unable to run in Yosemite's full-screen mode, Affinity Photo can absorb an entire virtual desktop space for easy maneuvering. With a mere four finger swipe, you can switch between the Affinity Photo and any other applications that you may be using for reference.
The photo software is also tuned much better for Apple's MacBook or Magic trackpad. Panning around an image is as simple as dragging two fingers across the trackpad surface. The zoom control, just as in Photoshop, can be controlled with a simple pinch. The difference is, both panning and zooming are much more fluid within Affinity Photo than in Photoshop CC.
Affinity Photo also uses the default OS X interface to import images from connected external devices. The particular section within the software is labeled as 'acquire image' and is much more user-friendly for dealing with your favorite camera or smartphone.
The Intuitive Interface Design
The development team at Serif have ensured that navigating Affinity Photo is quick and easy. The software is grouped into a number of 'Personas' which you can think of as alternative workspaces for specific tasks. The current Personas available within the beta include Photo, Develop, Liquify, and Export. We have confirmed that this version of Affinity does not contain macros, but they will be incorporated into the final release in a unique 'macro Persona'.
Within the Photo Persona is everything you would generally find in Photoshop. On the left-hand side of the screen is a menu bar containing a number of tools including: view, move, crop, selection brush, flood select, marquee, flood fill, gradient, paint brush, paint mixer, erase brush, dodge/burn brush, clone brush, undo brush, blur/sharpen brush, healing brush/patch tool, pen, shapes, text, warp, and zoom.
The top of the screen contains a number of adjustment options for each tool, along with easy access automatic adjustment buttons, image layering options, and a few Personal software preferences. The right side of the screen offers some more advanced options and adjustment tools. Included sections include a detailed histogram, color selector, swatches, and brushes. Options for managing your layers, photo adjustments, effects, styles, and stock imagery are also available.
The Develop Persona is very similar to the Photo Persona but focuses mostly on picture adjustments. If you have ever used Lightroom's Development Mode, then you'll understand what I am referencing. From this screen, all your adjustment options are just a click away including exposure, blackpoint, brightness, contrast, clarity, saturation, vibrance, white balance, shadows, highlights, and profiles. The options mentioned above are also available within the Photo Persona, but not as concisely laid out. Also showcased within the Develop Persona are lens correction options, chromatic aberration reduction, defringing, and vignetting control.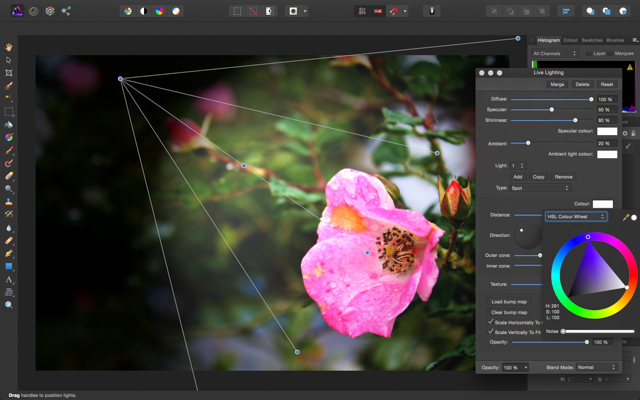 The two other current Persona options include 'Liquify' and 'Export'. The first is an exact replicate of Photoshop's liquefaction options while the second is a more advanced saving screen with cleared control over the file format, pixel format, resampler, and more. As mentioned before, a Macro Persona will also be included in Affinity Photo before release.
The Beta Test Verdict
In our tests, Affinity Photo wielded advanced tools such as the healing brush, selection brush, and patch tool with as much grace and performance as seen in Photoshop. We were a bit worried that behind the beautiful interface the software's algorithms would leave more to be desired, but we were wrong. In fact, with a few of the images I selected, Affinity Photo had an easier time 'healing' areas of the photograph.
Certain tools such as color proofing, threshold adjustments, and history management feel much easier to manipulate in Affinity Photo than in Adobe Photoshop. While Adobe tends to bury many of their settings, Affinity Photo keeps them up front and visible. Preset options for threshold adjustments and other settings also make learning how to use the tool much easier for beginners.
Overall, Affinity Photo performed faster than Adobe Photoshop; this includes starting up, loading files, manipulating images, and more. As mentioned above, it could simply be the time and detail that Serif put into making sure their software was perfectly optimized for the Mac operating system. If so, we applaud them for a job well done.
At this time, it is worth noting that the Affinity Photo Beta lacks some 'automated features' found within Photoshop. Notable missing items include panorama stitching and HDR merging. According to the design team, these details will most likely be addressed in a future roadmap, but until then, the future is a bit uncertain.
Whether you are looking to simply edit a photograph or create a multi-layer project full of adjustments and tweaks, we believe Affinity Photo is an excellent choice. With the final version of Affinity Photo only costing $50 it also seems like a complete steal. However, testing out a photo suite and judging whether it is right for hundreds of thousands of people is quite difficult. For the full experience, we recommend heading to Affinity's website and trying out the free beta for yourself.