The Lumigraphe Lets You Shoot Smartphone Camera Obscura Shots On the Go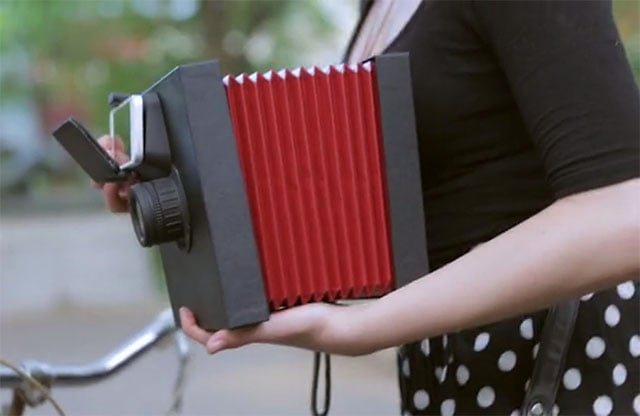 If you have ever dreamed of taking photographs through a camera obscura, then we have some great news for you! Former fashion photographer and inventor Valmont Achalme has designed the Lumigraphe, "a camera obscura for your smartphone". The project is currently on Kickstarter seeking $49,276 with the promise of helping you capture "beautiful effects" starting around $100.


Achalme has created a product that he promises will "have a distinct look defined by beautiful color saturation and a soft, dream-like focus." Essentially, the Lumigraphe is a camera obscura that your phone looks through via a hole on the front, and then snaps records the project interlay projected image via a snapshot or video. Due to the material used at the back of the box, each visual is captured with a "natural grain and delicate vignette".
To use the device, take it outside and attach your favorite smartphone. Videos and photographs will be taken upside-down, but can then be flipped within the included Lumigraphe App. Photographers can customize the projected image by placing colored paper and other materials on the back of the box. As one might imagine, the device requires no batteries and contains no electronics – it is all physics.
Here's a diagram showing how the system works:
If you want to see the types of images you can capture, check out this smartphone footage that was captured entirely using the Lumigraphe (i.e. no filters, post-processing, or added effects):
Three models of the Lumigraphe will be released. The most affordable option will be the Lumigraphe Cube for €80-90 ($87-98), which features a single focal distance.
The standard mode, simply called the Lumigraphe, will cost €185-200 ($202-219) and feature three focal distances; in addition, the box is collapsible for easy travel.
Lastly is the Lumigraphe Artist Edition for €300 ($328), which is identical to the standard model, but features a unique outer design.
If you are interested in the Lumigraphe, be sure to check out their product page on Kickstarter by clicking here. If the team meets its fundraising goal and delivers on the product, backers should begin to receive the devices starting December 2015.