Cosmos: Abstract Images Created by Destroying Star Photo Film Slides with Bacteria
Without context, the images in Cosmos by photographer Marcus DeSieno may look like colorful and abstract images created with some mysterious method. Read the description and captions, and you may experience a sense of revulsion.
Each of the photos was created by introducing photographic film to bacteria collected from various places, both unusual and ubiquitous. The microscopic organisms eat away at the film, creating a series of abstract artworks.

For example, the image above shows a photo of a star cluster eaten away by bacteria found on an ordinary light switch.
DeSieno started out by finding astrophotography showing stars and galaxies from the websites of space agencies such as NASA or ESA. He then had the images turned into film slides with the help of a company that does digital to analog conversion.
The photographer then applied a layer of the nutrient agar to the film to facilitate the growth of bacteria, which he collected and introduced from various sources. Once the bacteria had eaten away at the films, turning them into somewhat unrecognizable images, DeSieno scans the film, destroying the bacteria in the process.
"This body of work probes the immense scale of the universe as the microscopic and macrocosmic coalesce into an art object," DeSieno writes. "This whole series is a performative act of simultaneous creation and destruction, a notion tied to the very fabric of existence itself."
Here are photos from the series along with their original captions that reveal the underlying photo and the source of the bacteria: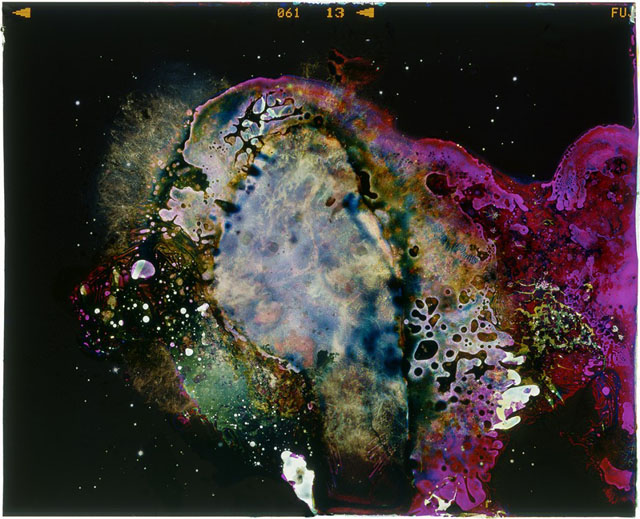 You can find more of DeSieno work over on his website.
Cosmos [Marcus DeSieno via Feature Shoot]
---
Image credits: Photographs by Marcus DeSieno and used with permission