Three Approaches to Publishing Your Photo Book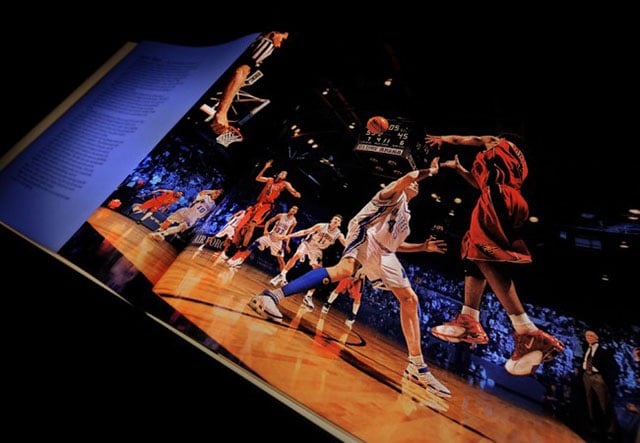 There comes a point in a photographer's life when publishing a book seems like a logical step. The coffee table book represents a platonic ideal for a photo project that is both long-term and worthy of considerations by others. Yet, even with the advent of high quality on-demand solutions like Blurb, book publishing is still fraught with challenges. Here are three different approaches to book publishing in the 21st century.

Traditional
: Larger publishing houses with a pedigreed history and established distribution channels.
Independent Publishing
(aka Small Press Publishing): Typically a publisher with less than $50 million in revenue per year and less than 10 books published per year.
Self-publishing
(e-publishing and print on demand): The photographer is responsible for all aspects of production, marketing and sales.
Motivation
Before embarking on a book project of any size, understand your motivation for doing so. Most book projects fail to sell even 1,000 copies, and thus can drain considerable resources without much return on investment.
Vanity projects are likely to lose money, so it's important to identify whether an audience exists for your book, and if so, who they are. Publishing the content through traditional or social media can be indicative of interest, and publishers can often provide valuable opinions on the viability of any book idea.
Considering Costs
There are two primary categories of costs to consider: soft costs, and cost of goods sold.
Soft costs: Fees associated with design, editing, copywriting, proofreading.
You can take a completely DIY (do-it-yourself) approach to producing a book, but many photographers outsource specific tasks to experts. Soft costs can range from $0 to the low tens of thousands of dollars.
COGS: "costs of goods sold," or your unit price to produce a book.
COGS can vary wildly depending on the size, number of pages, and materials used in your book. General edition photo books fall into a range of pricing with a sweet spot from $30 to $60.
To drive a profit, you need to control your COGS, and something like a heavier stock paper or large dimensions could easily throw you into the red. You need to familiarize yourself with the various materials options and their related costs before embarking on any book project.
Three Approaches to Photo Book Publishing
#1: Traditional Publishing
After 40 years of photographing some of the most iconic nature and wildlife photos, Thomas Mangelsen decided to throw together a retrospective entitled "The Last Great Wild Places." As a well-established photographer and author with multiple titles under his belt, Mangelsen was approached by esteemed publisher Rizzoli, which had previously published or distributed three other titles for him.
But even with interest from a publisher, Mangelsen warns of a contracting market, "According to my colleagues and the word on the street including most large publishers, photographic coffee table books are unfortunately a shrinking market. They are still being published but not in the numbers they were 20 or even 10 years ago."
A distinguishing factor that makes the proposition of a large format coffee table book more economically viable for Mangelsen is his ownership of eight galleries around the country combined with a large following both online and in real life. With "The Last Great Wild Places, Mangelsen created three editions to address a wide audience, including a limited special edition book aimed at hard core collectors of his work.
Unlike independent or self-publishing, working with a publisher meant more delegation of duties. Mangelsen said, "[My team] worked with the publisher on the format and size and approximate number of pages. We collected content and then edited from hundreds of thousands of possible images down to roughly 300 that we then sent to Rizzoli to be laid out by their designer…We went through several design concepts and drafts. We considered use of full bleeds, double page spreads, number of images on a spread, white space, author's for written text and forward, number of words, paper samples and varnishes to determine which materials would best represent my vision for the book. Once we had the book fully proofed my publisher handled most of the interactions with the printer who they had recommended."
As far as costs, Rizzoli was responsible for the layout, design, purchasing materials and printing and the author. Mangelsen covered the cost of his office staff working on the book's content, as well as purchasing from the publisher to sell through his galleries and website.
The traditional publisher brings two major advantages to the table: distribution and marketing. This includes negotiating shelf space and promotion at bookstores as well as coordinating special sales through book clubs and online retailers like Amazon. Generating PR, mailing out advance copies to book reviewers, etc can be done by independent publishers, but large publishers have staff, know-how and connections that help to increase the visibility of the titles they represent.
Still, publishing a book is challenging even for seasoned authors, and this book was no different for Mangelsen. "All books have their own challenges. From getting the content, to editing, layout and design, printing and binding, collaborating with publishers and writers and distribution and sales, books are a labor of love…There will be road bumps, such as the binding issues that delayed the release of my latest book, but fortunately working with Rizzoli they resolved the issues in time to have a great product for the holiday season. "
Despite a movement to digital publishing and online content consumption, Mangelsen finds himself in a unique place. "Since I have somewhat of a special niche, having my own galleries, website and other social media I find that most of my customers and limited edition print collectors want to have a physical book that they can look at as opposed to a digital version. Because my built-in audience I have been able to continue creating books and been successful in making large format coffee table books."
Pros:
– Many aspects of design & production delegated to publisher
– Distribution and marketing also handled by publisher
Cons:
– Might not receive a % of sales after author fee
#2: Independent Publishing
As the 20th anniversary of Scott Strazzante's personal project documenting the Harlow Cagwin farm in Illinois, Scott Strazzante started thinking about the best way to memorialize the effort. Strazzante had been showing the project through speaking engagements, multiple publications and a MediaStorm video, and during that time, many people inquired about the book version.
"I, literally, had hundreds of people ask me when the book was coming out, so, I was confident that there would be a market for Common Ground. However, I, also, knew for the book to be truly successful, I would have to sell to non-photographers, also."
Strazzante intended to self-publish the book and had a preliminary book design by Deb Pang Davis when he created a Kickstarter campaign. But beyond the intent and design, he didn't really know much else. "I was naive about the world of book publishing when I started the Kickstarter campaign. I really had no idea what self-publishing meant or how much work was involved in producing a book. In hindsight, I should have done a lot more legwork before securing the funds."
The success of the Kickstarter project provided Strazzante with a way to gauge the appetite for the content while raising $46k and bringing new eyeballs to the project. But crowdfunding isn't without its challenges. "My big mistake was underestimating the amount of time it would take to get the book finished." Strazzante's initial estimate of November 2013, stretched another year before the book made into the hands of the backers.
Also, getting physical addresses. "Kickstarter doesn't require people to give their addresses when they pledge support, so that all has to be done after the fact…At this point, I still don't have addresses for about 75 of the donors." Strazzante also notes that the personal project was difficult to balance. "Also, with a full-time job, it has been a struggle to get all the rewards out in a timely manner. I still have a handful of prints to send out."
Strazzante was contacted by a publisher, but after some negative internal reviews he cut ties. "The two anonymous reviewers didn't like the book. One wrote that some of the diptychs were redundant (which I agree with) while the other said that it was obvious that all the suburban photos were fake and that the photographer had shown the farm photos to the residents and had them recreate them."
Strazzante then reached out to Warren Winter at PSG Wire, an independent publisher. Strazzante's strong social media presence was attractive to Winter, but the photos and story were equally as compelling. "The story Scott tells in Common Ground is one that I felt would resonate far beyond the photo community. It has such a strong universal message to remind us that we are all far more alike than we are different."
Winter normally engages a project much earlier in the lifecycle, providing image editing and design guidance. But in this case, Scott went back and re-edited the material with Mike Davis, redesigned the book with Deb Pang Davis, obtained a foreward by David Guttenfelder, and hired editor Lynne Warren to write captions for the image.
Winter worked with Strazzante on proofing, printing and marketing. Generally speaking, the publisher will decide (or help the photographer decide) on aspects of production like hard or paperback, paper stock, coating, binding options, jacket options, cloth options, printing options (stochastic vs half-tone), shrink wrapping, freight, insurance, customs, trucking, warehousing, order fulfillment, etc.
Book size (both the physical dimensions and number of pages) can dramatically swing the cost of producing a book. But Winter provided the following ballpark estimate for:
– 8.5" x 11" hardcover
– Heavier stock with no special varnish
– 192 pages
– Dust jacket or cloth cover
– 1000 copies
– Approximately $14,000
This price does not include the cost of a designer ($30-100/page), editor ($500-$5000/project), proofreader, writer, or any other consultants.
Winter believes independent publishers act as gatekeepers. "The toughest thing to do is tell someone who has spent years creating a great story that you don't think it's marketable in book form." He vehemently opposes "vanity" publishers who don't invest their own money and resources into the project. "I see too many indie publishers take on any project where the photographer raised all the money on their own so they, the publisher, have no real skin in the game, and they don't pull their full back into marketing and publicity."
Strazzante believes that the photographer must keep the project and book on people's minds through social media and more. He's relied upon the relationships and good will that he's built up over his career. "I have made a lot of friends over the years in the business and many are now in places of power. The ones that I have reached out to have been very kind in promoting the project or spreading the word amongst their friends and colleagues."
Can a photographer profit in independent publishing? In short, yes, but it's rare. Winter believes that photographers have to be very objective before embarking on a book project. "[Photographers] have to be honest with themselves on whether or not the story will appeal only to other photographers or if it will have broader mass market appeal."
He points out the success of another PSG book, "That Tree" by Mark Hirsh, which has sold over 8,000 copies. "75% of those have been sold directly through our site, so we keep 100% of the cover price. I think too many indie publishers rely too heavily on retail sales…retailers take anywhere from 40% to 55% of the cover price." Winter breaks down the economics for 1,000 copies of a book.
– Printing, proofing, binding and ocean freight: $14,000
– Design: $5,000
– General Marketing: $2,000
– Total: $21,000, or $21 per unit.
If you sell 500 books at $50 through Barnes and Noble at a 55% discount, you net $22.50/book. After COGS (costs of goods sold), your total net = $750.
If you sell 250 books at $50 through Amazon.com, you net $40/book. After COGS, our total net = $4,750.
If you sell the remaining 250 books directly at $50, you net $29/book. After COGS, your total net = $7,250.
Total net revenue for 1,000 books sold = $12,750.
But 95% of all photo books never sell more than 1,000 copies. Winter warns, "You can clearly see how a high COGS will make selling in retail virtually nothing more than a break even proposition."
Despite all the challenges, Strazzante is thrilled with the results. "When this is all over, I will come out in the black on the Kickstarter campaign and, if the books sell, I will make additional money on the extra books that the Kickstarter money allowed me to have printed. jIt has been a lot more work than I ever imagined, but it was totally worthwhile."
Pros:
– Good option for niche titles
– Photographer can exert more control over project
Cons:
– Distribution channels more limited
– No big name marketing machine
#3: E-Publishing and Print on Demand
Dave Black has had a long and storied career, and his images have been featured in over 50 book projects. But he had never had a book of his own, despite having been approached by multiple publishers in the past.
His motivation for pursuing a book project came down to his daughter. "[It] began as a personal project in which I could tell my career story to my daughter, how I got started, why I make the pictures I do, and how she could make pictures too."
When he initiated the project, Black was unconcerned with the market for the book. "Selling it to the public was not primary and only came as an afterthought once I got involved in the writing and design, but offering it in the marketplace did not affect how I designed it or what I wrote. I made it just the way I wanted."
He quickly decided that self-publishing was the most economically feasible route. "If I were to have gone through a publisher like Simon and Schuster the book would have cost me $30,000 up front…That would mean I would need to sell 8,571 books (at an average price of $50.95) just to break even financially."
After consulting with some colleagues, Black decided to print on demand with Blurb.com based on product quality, price, layout flexibility, and the variety of book sizes. A three month process of designing and proofing all the material himself led to a gorgeous 120 page book that costs him $88.95 to print, and which he sells for $98.95. The goal of making money was secondary to producing a quality book that was both entertaining and educational. Since the book's debut in April 2009, the sales of hardcopies has slowed down to approximately 5 per month.
Black did release a digital version in 2009, but it was only available as an app through the Apple App Store at a price of $5, which was split 50/50 with Apple. So in 2011, he removed the App version, and relied solely on a PDF-based computer edition. "I released the current Digital edition in September 2014." For $29.95, customers can purchase and download a PDF version of the book for tablets and computers. It's three times the profit with no physical inventory, nor fulfilment logistics. The only fees he pays are for the PayPal transaction.
Black only markets the book through his website and at his lectures. This low-key approach is in keeping with his personality, and it suits him just fine. He has a ready-made, targeted audience through this approach.
Producing the book took about two months from start to finish with Black working on the project for a few hours about three days a week. The endeavor has been profitable, but Black is quick to remind that the project was motivated by passion rather than money. "I'm a hero in my own house, what could be more rewarding. Have they been profitable…yes, but that wasn't the goal. Thousands of people, most likely photographers have purchased [my two] books in all their editions. I receive emails from many who have learned something valuable about photography and thus improved their photographic skills because of reading them. That is also very rewarding to me." The process has been so rewarding, that Black is working on his third book entitled "Lightpainting."
Pros:
– Very low overhead costs
– You can literally DIY
– No middlemen
– High profit margin for electronic version
Cons:
– High COGS for printed book
– Lower profit margins
– Constrained by materials offered by printing service
---
About the author: Allen Murabayashi is the Chairman and co-founder of PhotoShelter, which regularly publishes resources for photographers. Allen is a graduate of Yale University, and flosses daily. This article originally appeared here.