Polaroid's History of Innovation, War, and Lawsuits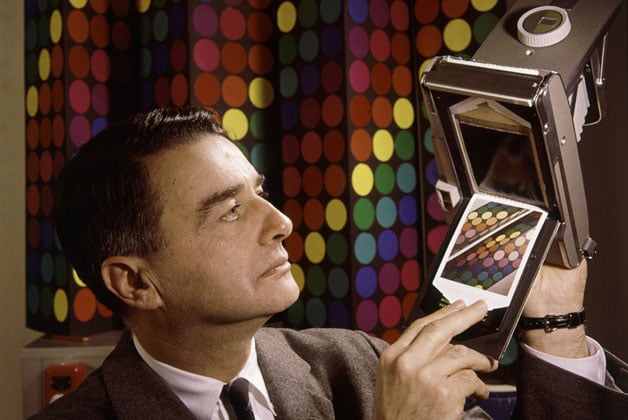 Ronald K. Fierstein is a man who has had a front row seat to the evolution of photography as we know it. He's a lawyer who helped represent Polaroid during its lengthy legal battle with Eastman Kodak over patents.
Fierstein has written a new book that sheds light on the life and career of Polaroid founder Edwin Land, the "original Steve Jobs" (Jobs revered Land and modeled his career after his). It's titled A Triumph of Genius: Edwin Land, Polaroid, and the Kodak Patent War.

Fierstein appeared
on the radio program Marketplace
yesterday to talk about Land, Jobs, and the lawsuit. Give it a listen:
The book covers way more than just the court battle between the two heavyweights of the photography industry of that era: through extensive research, Fierstein chronicles the history of the company and its ups and downs.
Fierstein shares some of the interesting highlights in a lengthy adapted excerpt published last month over at The Boston Globe Magazine. The story of the Polaroid company started when Land dropped out of Harvard and set to work at developing better polarizing technology.
In September 1928, 19-year-old Land solved a problem that had eluded physicists for nearly a century. He invented a thin plastic sheet that could act as a polarizer and remove the glare from light. The first customer for Land's "polaroid" was photography giant Eastman Kodak, which bought a large quantity for use in its camera lenses. Shortly after, he made a deal with American Optical to supply polaroid for sunglasses. By the late 1930s, Land's Polaroid Corp. was a huge success.
Land's father was the one who provided the financial backing and wise advice that helped the company start and survive:
Land's father agreed to support the endeavor with the equivalent of a $50,000 loan, but only on condition that Edwin seek legal protections to defend his future inventions from big companies looking to steal them. Edwin would accrue hundreds of patents in the years to come, many of which would prove essential to the survival of his company.
The story of the Polaroid camera started with Land's desire to make photography easier for his daughter:
The "high-tech" camera Land was using that day was a Rolleiflex box model. The film would have to be unloaded from the camera, taken to a pharmacy, and shipped off to a laboratory to be painstakingly developed before being shipped back. Land's daughter was disappointed when she learned that it would be weeks before she would be able to see her photographs. "Why can't I see these pictures right now?" she asked. "I don't want to wait."

[…] Land shared his daughter's frustration and embraced it. During the course of a long solitary walk, Land decided on the challenge that would ignite Polaroid's creativity: He would build a photographic system — a revolutionary camera and film combination — that would allow images to be viewed immediately after being taken. He would invent "one-step photography."
Then, World War II erupted, and Polaroid decided to divert its efforts as a company to helping the United States emerge victorious.
However, by late 1940, events in Europe began to overshadow whatever progress was being made at Polaroid. Land told [his staff], Polaroid would devote itself to one purpose: "to win this war." By the December 1941 attack on Pearl Harbor, Polaroid was already making a variety of special products for the military. To overcome the glare that would often blind a gunner, it produced millions of what Land proudly called "the best damn goggles in the world." […]

In the decades to come, Land would serve seven presidents by undertaking a number of top secret projects. Although making a profit had not been one of Land's motives for joining the war effort, his company's contributions proved good for business. When World War II started, Polaroid had about 75 employees and roughly $1 million in gross annual revenues. By its end, the company employed between 1,200 and 1,300 people and had annual revenues of about $15 million.
The company went on to develop a series of popular cameras and become the king of instant photography, winning over $900 million from Kodak through the patent lawsuit. However, the company struggled to find an identity through the decline of its consumer photography markets and the subsequent rise of digital photography.
Although Polaroid was one of the first companies to release a digital camera (the PDC-2000 in 1996), it never managed to capture a sizable piece of the market. In October 2001, Polaroid declared bankruptcy, and its assets and brand name have changed hands multiple times since then.