How a Chance Encounter Helped Launch My Concert Photography Career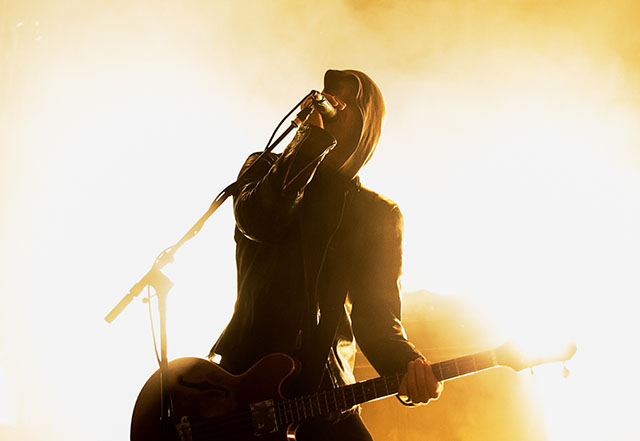 I was a month and a half into the photography program at the Art Institute of Colorado in Denver when I decided to skip school for a day for a concert. I had a ticket to see Mumford & Sons playing in Laramie, Wyoming, before they hit Red Rocks in Colorado.
At the time, I was already contemplating dropping out of school, due to feeling that I would never be good enough to make it in the photography world, and would just be wasting time and money.

On the way to a local coffee shop, I stopped by the newsstand and picked up a photography magazine that had an article about concert photography. Upon arriving at the coffee shop, I got to the second paragraph in the article, which started off with this statement: "When starting out, you won't be shooting the top-name acts".
At that moment, an odd-looking box-shaped camera with two lenses caught my eye as it sat on a table across the room. Walking up to the man and woman sitting with the camera, I asked them what it was. The man started to talk in a British accent and handed me the camera explaining how it worked.
He then asked me if I was interested in photography, to which I replied that I was. He introduced me to his girlfriend and said his name was Ted Dwane. We talked a little longer, and then at some point I asked him what brought him to Wyoming.
He replied that he was the bassist in Mumford & Sons.
It turns out Ted is a lover of photography and used to regularly post his photos to a photography blog on the Mumford & Sons website. He invited me to come shoot their concert, which I did. I wasn't very skilled at using my camera yet, so I completely failed at shooting the show (I wasn't able to get any good shots of Ted). But the whole thing turned out to be an amazing experience.
After the show, I ran into Ted again at a bar, so I took the opportunity to show him my pictures. "They're quite good," he told me.
I personally thought my pictures were horrible, but even though the pictures were not the greatest, I made the decision to stay in school and get better because of the opportunity Ted had given me.
A few months later, a few friends that shoot concerts for Clear Channel see my Mumford & Sons pictures. They explain that their boss is looking for another person to shoot shows, and then tell me to send an email with my concert photos. I send the email, and soon find that I have been assigned to shoot Black Rebel Motorcycle Club a couple of days later as a tryout.
Shooting that show went well, and I subsequently began getting more assignments for shooting concerts. The next thing I know, I'm getting assigned to shoot all of my favorite acts — bands and artists such as Fitz and the Tantrums, The Lumineers, Steve Aoki, Muse, Cage the Elephant, Nine Inch Nails, Blink-182, and Jay-Z. And this was all within eight months after my chance encounter with Ted!
If it wasn't for my chance encounter with Ted, I probably would have hung up my camera and never discovered the love for concert photography. And then I think back to that quote I read on that fateful day: "When starting out, you won't be shooting the top-name acts." Thanks for proving that article wrong Ted!
---
About the author: Jason Pendleton is a photographer from Wyoming who's currently studying photography at the Art Institute of Colorado. You can visit his website here and see more of his concert photos here.