Android Lightroom Mobile Comes to Android, But Just Phones for Now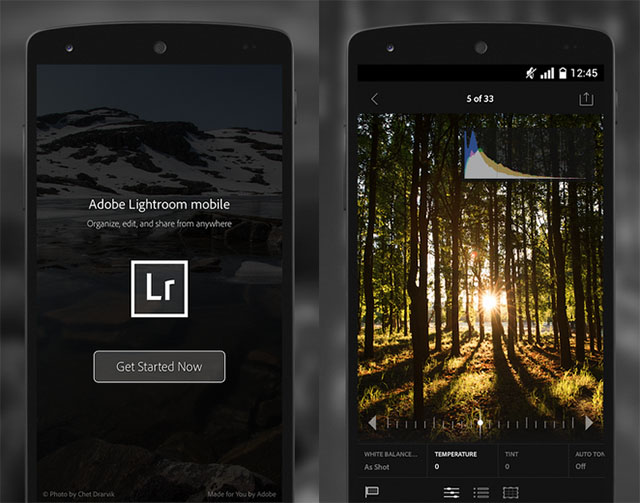 Adobe has announced Lightroom mobile for Android phones. It's an app that helps extend your workflow beyond your desktop and allows you to use your phone to review and edit your photos. Changes made through the app are automatically synced back to your Lightroom catalog on your computer.

Features of the app include: accessing photos in your Lightroom catalog, selecting and rejecting photos, applying presets, using the Basic panel to adjust your photos, and importing new photos through your phone's Gallery.
Beaming photos to your phone is simple. As long as your computer and your phone are both connected to the Web, all you need to do is tell Lightroom that a particular group of photos should be accessible on your Lightroom mobile app. The images will be made available through your phone, and syncs are handled automatically.
As with the Lightroom mobile iPad app, the Android version works with smaller preview versions of your original RAW files to allow you to edit on the go without requiring massive files and super long downloads. The preview versions are called Smart Previews and are 2560px-max DNG files.
These preview files are smaller representations of the actual file, and any changes you make to them on your phone are automatically mirrored on the actual full-size file on your computer.
Here's a quick tour of the new app, courtesy of Android Central:
To use Lightroom mobile on Android, you'll need 8GB of internal storage and at minimum a 1.7GHz quad-core processor. You'll also need to be subscribed to a Adobe Creative Cloud plan that includes Lightroom.
You can download the new app now over in the Google Play store. Instructions on getting set up and started can be found in this blog post over at Adobe.