Interview: Stephen Bulger on His Acquisition of Vivian Maier Negatives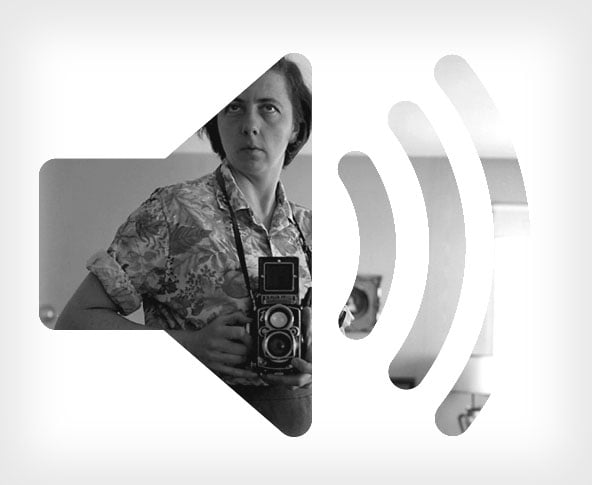 In late 2014, we reported that a gallery owner in Toronto named Stephen Bulger had purchased the entire collection of Vivian Maier negatives owned by Jeffrey Goldstein. The acquisition came at a time when legal challenges were threatening to derail the publication of Maier's now famous images.
Bulger recently went on Canada's national public radio to discuss his new involvement in the Vivian Maier saga.

Here's an embed of the full interview on CBC Radio-Canada's show Q TV:
Here are some of the interesting portions as transcribed by StreetShootr:
---
Introduction: CBC Studio Q: For 40 years, photographer Vivian Maier toiled in secret. Those who knew her, knew her as a nannny. But outside of that job Vivian was a prolific photographer. Quietly hitting the streets of Chicago, New York and Los Angeles, she snapped more than 150,000 photos.
Most of her shots are small urban moments rendered in black and white. Two girls slouching on a doorstep or an older woman sleeping on a bench. Her stark yet intimate style is detailed in the 2013 documentary, Finding Vivian Maier. […]
In 2007, boxes of Vivian's Maier's negatives were discovered and auctioned off by the owners of a storage locker she'd abandoned. Maier died 2 years later and since then interest in her work has been growing and a copyright battle has been brewing. Amid this my next guest has managed to purchase more than 17,000 of her negatives. […]
Q: So you bought a huge chunk of her negatives, 17,000 of her negatives. Why was this decision so important to you?
Bulger: Well it seemed that they were under threat in some ways. That, as you were mentioning, there was a copyright dispute with Cook County, Illinois, who's come forward and is really insisting that they have owership of the copyright and wanted, apparently, to take posession of the negatives so they could start to apply for copyright, or register for copyright for each one of these pictures.
And Jeffrey Goldstein, who I've done a couple of exhibitions of and who over a number of years built up this collection of 17,500 Vivian Maier negatives really thought that Toronto would be a safe haven for them. And I think that he was wanting also to get back to his own life which he was enjoying before he got into his Vivian Maier project.
Q: So in your view, how culturally significant was the finding of Vivian Maier's photographs? Because she's now being compared to some of the great photographers, street photographers, of all time. How significant was this particular find though?
Bulger: Well, it's really unprecedented. In total there's about 150,000 negatives, it seems, and the fact that she was performing at such a high level and everyone could see her doing this. She's be wearing cameras on a day by day basis and taking them while she was working as a nanny as well as in her off hours. And yet she was intensely private with everything including these photographs. So they're not photographs that she shared with anyone. Which is quite unusual.
Like usually people are engaging in photography, if it's not just a personal pursuit, to then basically show how they're illustrating their view point of the world. And it's something that Vivian was quite good at doing, but just didn't show them to anyone.
Q: […] How much of this is just a good story versus great art?
Bulger: Oh, and that's something I was certainly on that fence for a while myself because it's not the way it's supposed to happen. The way it's supposed to happen is that a curator makes a discovery and provides the context for an artist and then puts together a thesis about that, an exhibition that's usually accompanied with a book publication. And by the time the public comes to see the work for the first time, this artist has been canonized by people in the know. This happened completely opposite to that.
They were found in a storage auction and then subsequently auctioned off to a number of different people and it took a couple of years for the quality of the work to become evident to the people that even owned it. And then the people that owned the work, especially John Maloof, started to put things up on the web. And then the public discovered her first. And the public canonized her and then the curators were left scrambling trying to figure out who was this woman and what is all this hype?
And what I find interesting is that people tend to come into the Vivian Maier story through her story which is quite fantastic. But then it's the photographs that hook them and then give that much more resonance to the story. Because if the photographs weren't as good as they are, noone would care that much about the story.
Q: Vivian Maier was clearly passionate about photography and took about a roll of film a day, they say. She was an extremely private person. What is your sense of why she kept this passion for photography so secret and so much to herself?
Bulger: Well, that's the $64,000,000 question.