You Can Now Browse Through the World's Largest Collection of Robert Frank's Work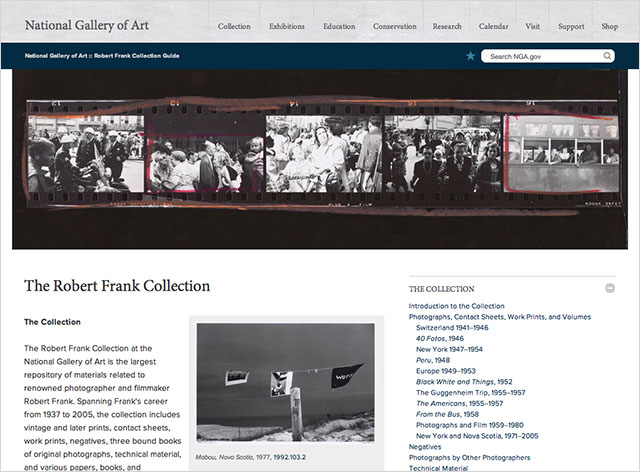 The National Gallery of Art owns the world's largest collection of photos and materials by renowned American photographer Robert Frank. That collection is also the museum's largest holding of any single photographer.
Late last year, to celebrate Frank's 90th birthday, the collection was opened up in a new way through the launch of an online repository. You can now browse through the 8,000 or so items held by the museum — some of which had never before seen the light of day.

The digital initiative is a comprehensive effort to list, organize, and contextualize the items in the museum's Robert Frank Collection that span from 1937 to 2005. Many of the resources found on the site are accompanied by descriptions and background information.
There are a total of 624 photographs, 2,967 contact sheets, and 1,344 work prints. The index page for these resources is a good starting point for your browsing.
Other items that can be discovered on the site include a biography of Frank, Frank's early photo books (e.g. Fotos, Peru, and Black and White Things), and contact sheets and work prints from his tour across the US that resulted in the seminal photo book The Americans.
The new online repository is a fantastic resource for researchers, photography aficionados, and the general public.
"We hope that the general public will find it an informative overview of Frank's work and his seminal contributions to American art and culture," curator Sarah Greenough tells the New York Times. "We also expect that scholars and photographers who want to study Frank's work in-depth will discover vast amounts of information about him and his art that is not available anyplace else."
The Robert Frank Collection [National Gallery of Art via NYTimes]
---
Image credits: Images by Robert Frank/The National Gallery of Art