Inside the Warrior: Striking Portraits that Reveal the Masculine Side of Yoga
Thinking about your local Yoga studio doesn't usually conjure up images of masculinity. Yoga mats, yoga pants, yoga in general is seen as a female-dominated, or sometimes even female-only, practice. But as photographer Amy Goalen's project Inside the Warrior goes to show, that is definitely not always the case.
The idea for Inside the Warrior — a project that has produced the Yoga Men 2015 Calendar and will soon become a photo book complete with an interview component — came to Goalen when one of her yoga teachers asked her to take some new promo shots for him.
"We used a local yoga studio in between classes one Sat afternoon and just played around with poses, angles and window light," she tells us over email. "The shots looked incredible and immediately I thought 'I should do a yoga series!'"
But when she got home and started researching Yoga photography, she noticed something. "The images are mostly women."
"The yoga industry is marketed to women," she tells us, "but there's a ton of men practicing yoga who feel quite underrepresented. So I started focusing on men who practice yoga."
She started with Yoga teachers in the LA area before joining the Yoga for Men group on Facebook where she found a community 100K strong of men who absolutely loved that she was shedding some light on the oft-ignored masculine side of this practice.
From young men with midsections that would make a Men's Health model jealous, to older practitioners whose fit physique doesn't broadcast their inner strength quite so loudly, the purpose of the project is to highlight all the different types of men who practice yoga.
As for how these images come together, Goalen was kind enough to describe her entire, spontaneous process for us:
I mostly use window light or available light when shooting outdoors. I have used hot lights on occasion when shooting at night. I started this with zero budget and even when I travel I rely on donations from the men I photograph to help with my travel costs and I ask for people to put me up so I can get around on the cheap.

I often photograph in locations sight unseen. I usually don't have the time or the resources to scout a location before hand so I as long as my indoor location has some windows I'm good. I walk into a location and take about 5-10 minutes to evaluate the space, find the best angle, and make whatever adjustments I need.

As long as the lighting is highlighting what I want on my model and the exposure is good I can take my raw files into LR and PS and make anything possible. I'm quite skilled at LR & PS post production and that's where the magic happens for a lot (not all) of my images.
Here's a look at some of the striking images you'll find in Goalen's Yoga Men portfolio: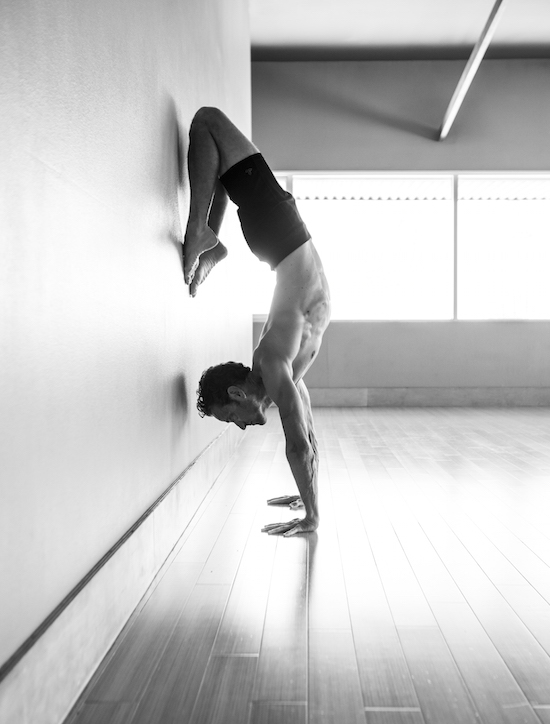 The project was taken to another level when a friend put her in touch with Julian DeVoe, a yogi/writer in New Jersey who is interviewing men who practice yoga for a book he's writing. They decided to work together, naming the project "Inside the Warrior – the Masculine Side of Yoga" and expanding its scope beyond anything either could do on their own.
The book hopes "to change our perception of who should practice yoga and who does practice yoga," and "put a spotlight on the participants of yoga that are most under represented by illustrating both the physical and the spiritual components of a yoga practice."
If you'd like to find out more about the project or support the duo as they try to raise the funds necessary to complete the project, head over to the Inside the Warrior website or go straight to the donation page here. You can also purchase the Yoga Men's 2015 calendar here for $25.
To see more of Goalen's work, yoga related and otherwise, check out her website or follow her on Twitter, Facebook or Instagram.
(via Visual News)
---
Image credits: Photographs by Amy Goalen and used with permission