VSCO Cam 4.0 Was Built for iPads, Features a Better Editing Workflow and Photo Essays
Visual Supply Co. today joins the many companies that have already jumped on the iPad bandwagon with VSCO Cam 4.0: a new version of the company's very popular photo taking, editing and sharing application that touts several noteworthy enhancements and compatibility with the iPad's bigger screen.
The update also comes alongside the new web uploader that lets you upload high-res files without having to get those photos onto a phone first.
The main improvements in 4.0 have to do with an improved photo editing UI, better photo sharing/syncing capabilities, and the integration of the VSCO Journal photo essay platform VSCO teased back in August.
On the editing front, VSCO Cam takes full advantage of the increased screen real estate available on the iPad to make processing your photos easier.
The new Preset Gallery lets you see multiple filters side-by-side so you can better decide what looks best, and any edits you make are now viewable in Edit History, where you can modify and undo changes.
Photo sharing and syncing has also been improved thanks to a new web uploader and "Sync" feature.
The web uploader lets you upload PNGs and JPEGs up to 25Mb in size to your VSCO Cam Library straight from your computer, so images taken on a traditional camera are now easier to get on VSCO.
And thanks to Sync, you now have the "ability to view and edit selected photos across iPhone, iPad, and Android devices."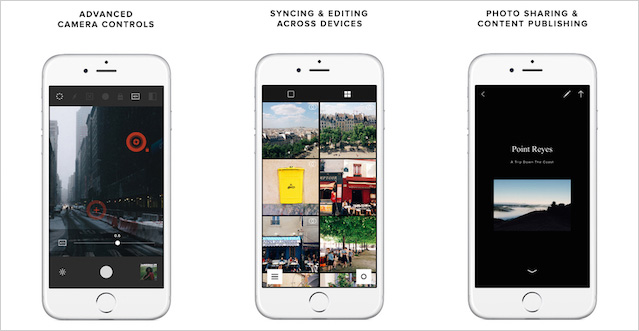 Finally, VSCO Journal makes its official debut in VSCO Cam 4.0. In case you've not read our previous coverage, VSCO Journal is basically Visual Supply Co.'s version of the photo essay platform Exposure.
Meant to complement the VSCO Grid platform through which you can exhibit your VSCO photography, VSCO Journal takes it further by allowing you to craft full-blown photo essays in an easy-to-use and beautifully minimalistic UI.
And that's about it. If you'd like to find out more about VSCO Cam 4.0, you can do so over on the company's website. Otherwise, iPhone and iPad users who have updated to iOS 8 can download the new version by updating the current app on their phone or downloading the fresh copy for free on the iTunes App Store.
Android users can take advantage of the web uploader and Sync features, but VSCO Journal is missing and your tablet experience won't be on par with the iPad. You can find your version 3.1 update on the Google Play Store.
---
Correction: This post originally said Android users could use VSCO Journal on the app. This was incorrect, although VSCO tells us they are working on it. We apologize for the misinformation.