Fancam Captures Massive 20 Gigapixel Group Photos of Fans at Large Events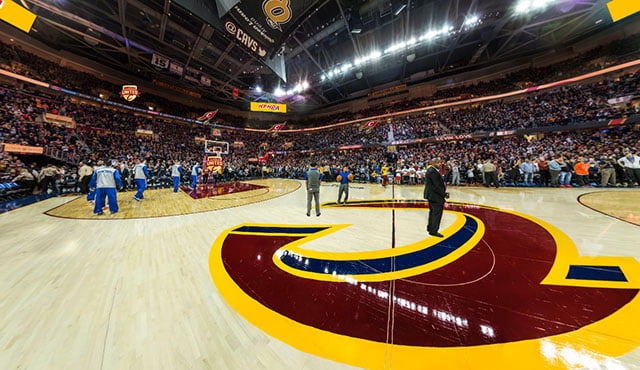 To celebrate the return of LeBron James yesterday, the Cleveland Cavaliers decided to do a massive group photo with all the fans in attendance. Today they released the 360-degree, 20-gigapixel photograph online for fans to find themselves in, tag, and share.
The giant group panorama — and many others like it — was captured by a company called Fancam, which specializes in shooting some of the largest group shots in history.

The photo above shows what one portion of Quicken Loans arena looks like in the photo captured yesterday. It was shot from the basketball court.
Here's what the lower level looks like when zoomed all the way in:
The upper deck isn't neglected. Faces can still be seen clearly (though the lighting wasn't as good):
What's neat is that the online interactive panorama gives fans the opportunity to find themselves in the sea of faces, tag it, and share it on social networks.
If you're wondering about the technology behind this panorama, Fancam has the answers you're looking for. The company has a "How it Works" page on its website that goes through the steps taken to create the images.
First, the team of specially trained photographers use ordinary camera gear to shoot hundreds of high-resolution photos. The photography typically takes between 3 and 15 minutes to complete.
The images are then stitched together into a single 360-degree photo that usually weighs in at 20 gigapixels (depending on the size of the venue). That's the equivalent of 4,000 photos captured with an average smartphone camera. To further put that into perspective, if you wanted to display the photo as a full-res print, it would span 30 stories tall and 2 football fields long.
Artifacts are a problem with stitching multiple images together, so the team puts in time to make sure that every fan shows up intact in the final image.
The resulting image is too massive to view through ordinary means, so the company chops it up into 60,000 smaller photographs and arranges them in a way that makes browsing uniform and intuitive. It's a concept that's similar to what you'll find in Google Maps.
Here's a brief video that shows how much you can zoom into the photos:
Fancam says it has photographed over 12.5 million fans so far at 356 separate events on 6 continents. Fans have spent over 750,000 hours afterward viewing the photos and tagging their own faces.
To see some of these interactive photos for yourself, head over to Fancam's portfolio page. The shots there are from some of the biggest sporting events in the US.