Street Photographs that Show How the Rise of Smartphones Means the Death of Conversation
Reminiscent of the Tumblr Blog We Never Look Up, London street photographer Babycakes Romero's series The Death of Conversation focuses on our obsession connection with our smartphones.
But where the anonymous photographer behind We Never Look Up focused on anyone and everyone with their eyes glued to that little screen, Romero's series is all about highlighting the digital wall that smartphones have created between people often sitting so close to each other they're touching.
Heads lean on shoulders on the subway, diners sit at the same table in a restaurant, couples sit on park benches, but none of them are looking at or interacting with each other. It's all about their phones.
"I started to photograph people in company on their phones as there was a certain symmetry to them and it appealed on a visual level," writes Romero on Bored Panda, "but as I continued I noticed an inherent sadness to the proceedings."
That sadness is why he calls the series The Death of Conversation, and the true subject of each photograph below: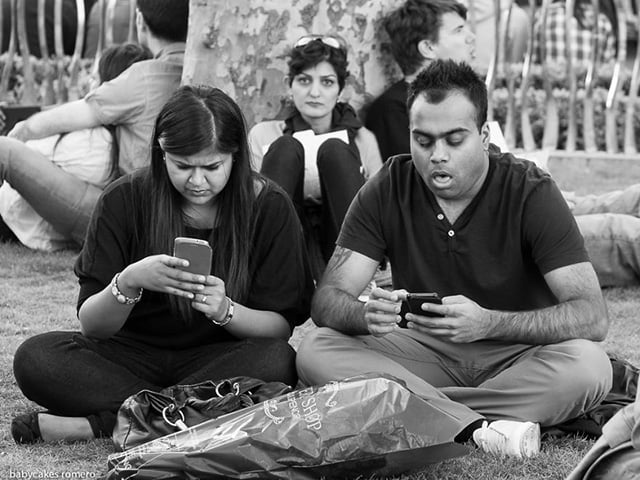 To see more from Romero, head over to his website by clicking here or give the photographer a follow on Twitter.
(via Lost at E Minor)
---
Image credits: Photographs by Babycakes Romero and used with permission