Contact Sheets from the Sets of Some of the Greatest Hollywood Films of the 20th Century
Contact sheets often provide a fascinating glimpse into the mind of photographers, showing final shots among outtakes that were left on the cutting room floor.
Hollywood Frame by Frame is a new book by Karina Longworth that offers this look into the work of old Hollywood photographers. It's a collection of contact sheets showing famous actors on the sets of some of Hollywood's greatest films from the 20th century.


During the "classic" years of Hollywood, photographers shooting publicity shots on the sets of films had an important role: their carefully selected shots were critical in creating positive public perception for famous actors and actresses (this was prior to digital photography and the Internet taking over).
Thus, contact sheets were heavily scrutinized, and unflattering photographers were left unpublished and were expected to stay hidden from public view.
Now that decades have passed, many of those contact sheets are resurfacing. Longworth's collection shows many of Hollywood's biggest stars caught with their guard down.
Here are some of the sheets found in the book:
Julius Caesar (1953), starring Marlon Brando
Breakfast at Tiffany's (1961), starring Audrey Hepburn
Rear Window (1954), starring Grace Kelley
Bus Stop (1956), starring Marilyn Monroe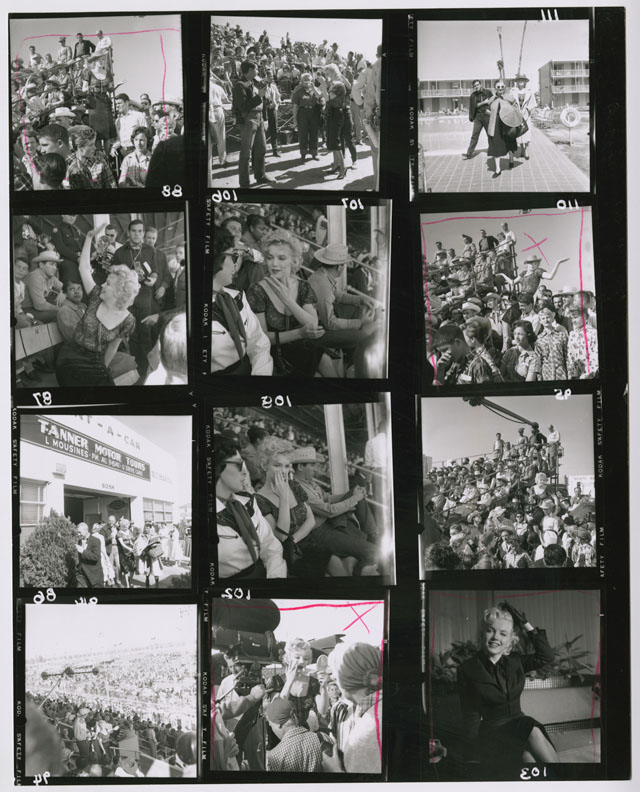 Giant (1956), starring James Dean
Once Upon a Time in the West (1968)
Raging Bull (1980), starring Robert DeNiro
---
You can pick up a copy of Hollywood Frame by Frame for about $20 over on Amazon.
(via Reframe)