7 Questions with Urban Landscape Photographer Marcus Lyon
Marcus Lyon (b.1965) is a British artist. He studied Political Science at Leeds and Leadership at Harvard Business School. His began his career with Amnesty International, working on commissions concerning street children in Latin America, Africa and Asia. He has an international reputation as a conceptual landscape and portrait artist. His work is collected by many significant private and public institutions and exhibited globally by amongst others the Saatchi Gallery and the MAM Rio.

His recent projects on urban expansion and mass migration have been shown in Argentina, Brazil and Russia in 2014. He serves on the boards of Somerset House and Leader's Quest and is an ambassador for Photovoice and Home Start UK. He currently lives between London and São Paulo with his wife Bel and their children Flo and Arthur.
PetaPixel: First off, give us a brief introduction to your project Exodus. What made you want to pursue this project?
Marcus Lyon: Exodus is an exploration of the most significant migrations of the early 21st century. The project was born out of work I had been working on for 20 years exploring the mega-cities of the emerging economies. My proposition is that as the ability of humans, goods and services to circumnavigate the planet increases exponentially we are left disconnected from a simple view of our common identity. In turn, as our economic and geo-political differences intensify, the unstoppable movement and expansion of actual and digital assets challenges the power of the individual in society, the state and corporations to control opinions, actions and environments. In Exodus I try to provoke questions concerning the biggest changes in contemporary society through large-scale representations of the key themes that influence globalization the modern world.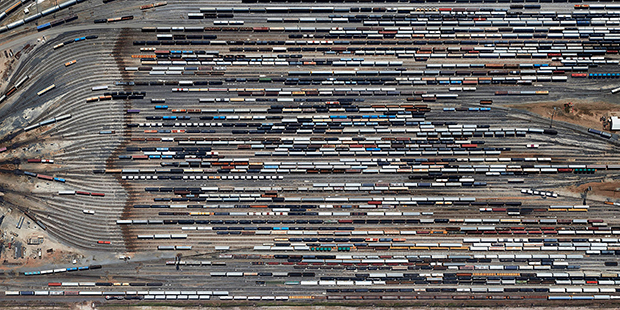 PP: What can you tell us about the process of making these images? They look as though you went to great lengths to create them. Are they composite photographs?
ML: All my mass behavior artworks ( BRICS, EXODUS & TIMEOUT) are born out of the idea that the world is too fabulously complex and my audience is too visually literate for me to tell the truths I wish to communicate in a single image. So I collect multiple images, opinions if you like, to build new and hopefully more powerful visual reality. They take between 2 and 3 months each to make.
PP: How about the travel and planning involved with your work? Do you work with many assistants? Is there a collaborative aspect involved with your projects?
ML: The work is based on pre-visualized images so the research and planning are key. I normally start with a sketch or a doodle and then I rely on a team of assistants, researchers, fixers, location scouts, helicopter pilots and retouchers to make the ideas I have a reality. Therefore collaboration lies at the heart of my practice.
PP: I feel that your work is thought-provoking. It offers us a point-of-view on the world that we don't normally see, and you're addressing important issues on how globalization is affecting the world. What do you want your viewers to take away from your work? Are the subjects of your photographs things you want to see changed?
ML: I am glad that the images work on that level for you. To me they need to be quietly subversive and should speak about the the realities of our mass behaviors to as wide as audience as possible. However, I have no particular message. I see the work much more as a a catalyst for conversation and thus the viewers will find their own voices on the matters that the images address.
As an artist I remain publicly politically neutral about my subject matter. My role is to inspire a deeper dialogue – to inspire and present a different perspective. In many ways I am part of the actions behind the ideas I represent so it would be extremely hypocritical to state too much off an opinion: these are key questions about the way we all live and thus we need to find answers en mass.
PP: Who are the photographers or teachers who have helped to influence your practice? I think many of our readers could compare your work to that of Andreas Gursky, who deals with similar topics of globalization. Would he be a part of this list?
ML: The work is often compared to Gursky's, which is obviously hugely flattering, but I am blissfully uninterested in other photographers visions…indeed he recently had a big show in London that I completely missed…I am much more inspired by David Suzuki, Norman Borlaug or Susan Sontag. For me ideas are the keys to my images not other images or image makers. If we allow the idea be king then we will always have an authentic voice.
If you were to push me on a photographic hero I would more likely chose Gary Winogrand, Chris Killip and Ray K Metzker than any contemporary practitioner.
PP: Tell us a bit about your latest body of work, "TIMEOUT."
ML: TIMEOUT examines a world where the search for safety and shelter has taken a secondary role. As the billion planet dwellers that no longer need to satisfy their basic needs search for meaning they turn to exploration. As the desire for escape intensifies, we unleash an unstoppable quest for release through consumption. Whether through budget air tourism, industrial food production or the mega rich's super yachts, a systemically significant part of the human race defines itself by endeavoring to conquer the natural rhythms of the earth through recreation.
PP: Finally, what's coming up for you over the next year, photographically or otherwise?
ML: Right now I am putting the final touches to the mounting and framing of TIMEOUT with John Jones in preparation to launch this autumn in London at the fabulous Somerset House. In terms of next year, we are just beginning working on the pre-production for a huge portrait project in Brazil which will see the team right through 2015. The idea is to create a significant series of over life size images of an anthropologically curated set of sound and DNA enabled portraits that will explore the identity of Brazilians at the beginning of the 21st century.