Artist Uses Forced Perspective Photography to Capture Whimsical Window Silhouettes
Spanish artist Pejac has never been a man contained by the borders of a canvas; his art, often silhouette based, bleeds out of frames and into the real world.
Most of the time, this feat is achieved with nothing more than a disregard for those borders, but one of his series of works instead used forced perspective photography to achieve the same effect and create the illusion that his whimsical silhouettes were playing with the world outside his window.
These forced perspective photographs caught the public's eye when Pejac posted the picture above to his Facebook. It was a tribute to French high-wire walker, Philippe Petit, created in honor of the 40th anniversary of Petit's legendary walk between the Twin Towers of the World Trade Center, and people were enamored with it.
The magazine Hi-Fructose got in touch with the artist to inquire about it and, as it turns out, this wasn't his first experiment with forced perspective photography and window silhouettes. In 2011 he created more of these illusions while living in an apartment surrounded by security cameras in Valencia.
Those images, along with the few he created as a tribute to the iconic Petit, are included in the gallery below: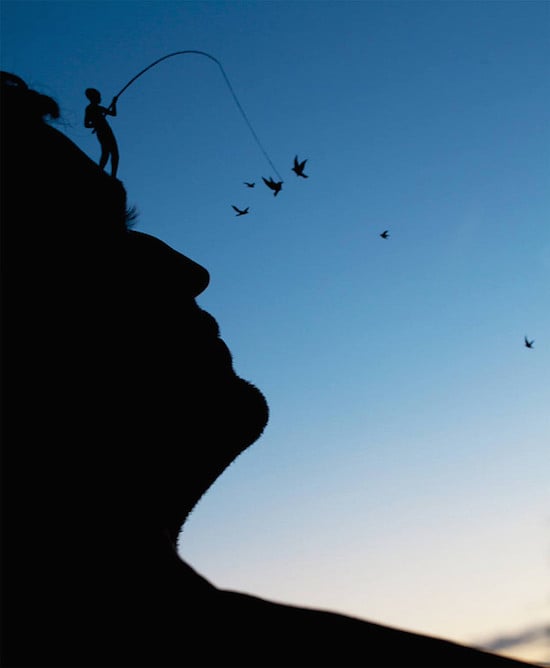 And here are a few behind the scenes photos that show the artist at work, and the photography setup:
To see more of Pejac's work — and trust us when we say it is truly stunning, even when it doesn't have a photographic element — be sure to visit his website and give him a follow on Facebook and Instagram.
(via Fubiz)
---
Image credits: Photographs courtesy of Pejac.