Photographer Dad Meticulously Creates Vintage Scenes from the 20th Century with His Kids
The photos in Tyler Orehek's series The Vintage Project might seem like fun pictures of his kids that he puts together on free weekends, but that's just not the case. These images, whimsical and fun though they certainly are, are a testament to attention to detail and accuracy, taking anywhere between one and six months to complete from start to finish!
Orehek — who, as it so happens, is a big fan of the site — sent us his series a couple of weeks ago when he finally decided to make this two-and-a-half-year-old project public. And we were blown away.
Since the project began in 2012, his goal has been to shoot "the most accurate vintage photographs possible." And so, in addition to enlisting the modeling talents of his now 6-year-old son and 3-year-old daughter, he treats each image as a labor of vintage love.
All the background locations are real (no backdrops), all the props are authentic antiques that at times take him months and thousands of dollars to acquire, and he prides himself on coming up with each photo on his own, never recreating existing vintage photographs.
To give you an idea of the time and effort that goes into these shots, Orehek told us what all went into the Traveling Sideshow photos above — his most difficult shoot to date and the one he's most proud of:
The "Traveling Sideshow" shoot was my most ambitious to date and was taken in July of 2013. Over a 6 month period, I searched for and bought well over 50 very old props from dozens of different antique shops from all over the US…investing over $2000 for just the Traveling Sideshow shoot alone. Little Tyler had just turned 5 years old a month earlier and my daughter Lauren was only 2 at the time. It was also her first shoot.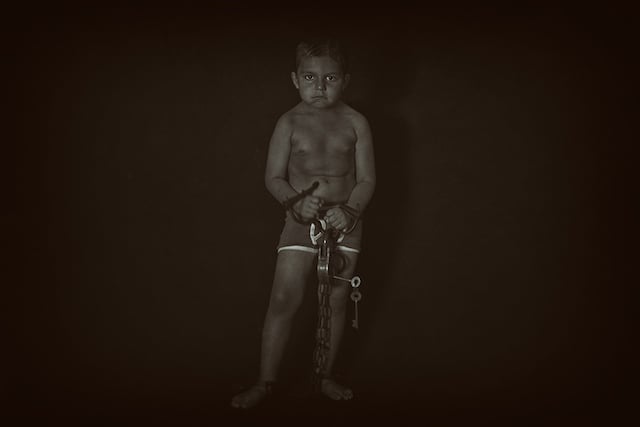 Adding to the magic of the series is that we get to watch little Tyler and Lauren grow up even as they traverse the 20th century in photos. The images in this post and in Orehek's gallery are, therefore, ordered by decade — starting in the 1900s with the Traveling Sideshow and moving on up to the 1970s with the final Roller Skates image.
Seven decades traversed by the same little boy and girl, even as they age two and a half years in the process. It's a fun journey made all the more enjoyable by the sheer authenticity of each image: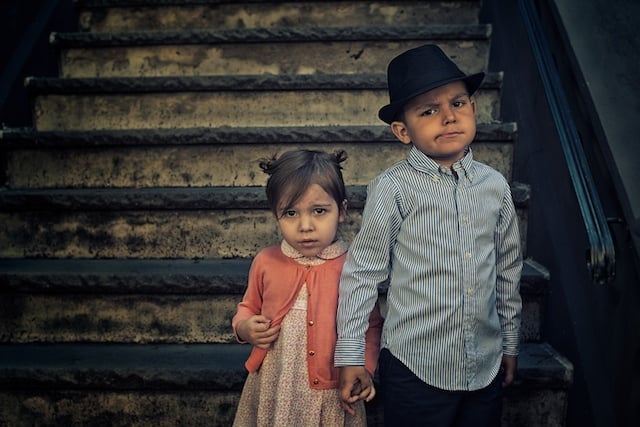 In his artist statement, Orehek explains what he was going for when he began this vintage project, and why he feels his children make for the perfect models:
My intent was not and is not to replicate existing vintage photographs but to capture the mood, feel and the visceral emotion of that period. Having a child in lieu of an adult in my work allows the viewer to focus on the "essence" of those past environments and professions with greater clarity through juxtaposition. Children, having no preconceptions of the roles I place them in, can more truly embody the individuals they're endeavoring to be within my compositions.
To see more of the images in the series, learn more, or follow along as Orehek and his children continue to journey through time, head over to the his website and definitely give him a follow on Facebook. These images really need to be seen in higher resolution for the attention to detail to be appreciated.
---
Image credits: Photographs by Tyler Orehek and used with permission