Photographing the Matterhorn
It's approaching 8pm and I'm sitting at the Chez Vrony, with the Matterhorn in front, waiting for someone to ask me if I'd like to have a drink. There's a wedding reception going on, so I might be left alone. It was 3am last time I was here, and I used their outdoor electrical plug to charge my camera battery, so I feel like I ought to at least pay for something if I'm here.
After several weeks of stalking the weather forecast for Zermatt, this weekend looked perfect, and I concocted a plan to hike overnight in Zermatt to grab a morning shot of the Matterhorn.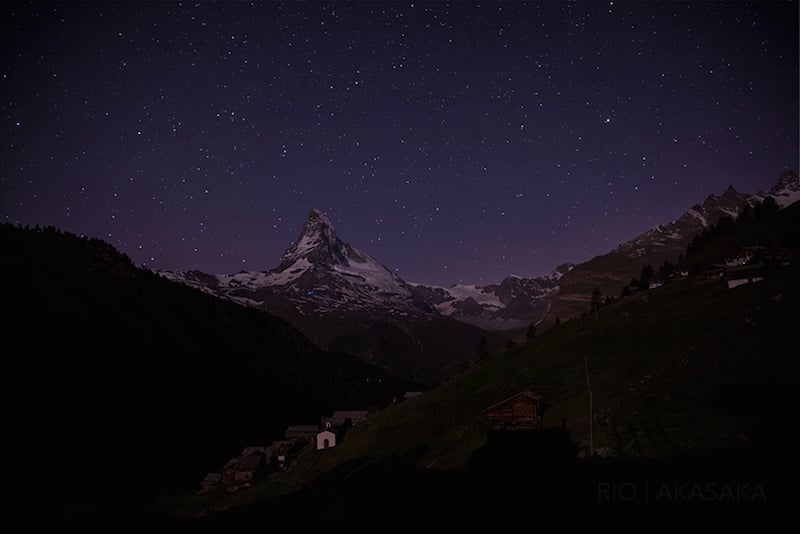 It was with such plans that I had taken the 8:34pm train yesterday out from the Zurich main station towards Bern, the last connecting train to Zermatt, via Visp. Having arrived at around a quarter to midnight, I popped into a pub to watch the Ecuador against Honduras World Cup game, though with half interest. I was more interested in staying somewhere warm before starting the long walk.
At 1:30 I left for Sunnegga, a funicular stop high on top of the mountain. The first funiculars start running at 8am, but that would be too late for me to get a good sunrise shot at Stelisee, a lake famous for its perfect position to reflect the famous Swiss mountain. Sunrise at this time of year is at 5:39, and I needed to be there then. The hike to Sunnegga was fairly uneventful, save for the curious two yellow lights I saw at one switchback – it could have been someone not keen to be seen (with a headlamp) or some curious animal. Either way, I trudged along, my headlamp keeping me from slipping over the edge.
It was along this path when I first stopped to take a picture that I realized one of my camera batteries was completely dead. I was furious – apparently, an on-switch on the camera and the tight packing of my bag meant it was constantly engaged, draining the battery between my trip between Zurich and Zermatt. One camera battery might last me 300 shots, at best, and even fewer in the cold. I was going to have to be frugal with my shots.
About an hour and a half in, I arrived at Findeln, the first sign of civilization along the path, and also the spot where Chez Vrony is. It took me another 40 minutes to get to Sunnegga, and from there the path to Stellisee was marked as requiring an hour and 20 minutes. I panicked a bit – I wasn't making good progress, and I had wasted 30 minutes trying to get juice for my dead battery. It was going to be close to sunrise by the time I arrived.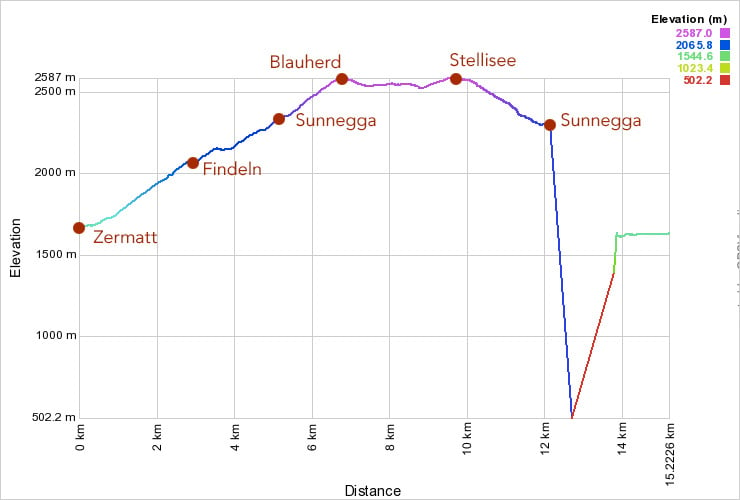 The last hour was perhaps the most grueling and unforgiving section of the walk. There was absolutely no one around, and the path was very steep. With 10 kg of stuff swinging about and no sleep for a long while I was hardly in a good position to push myself. As I got closer to Stellisee, I also worried that there wasn't enough water to make a good enough lake – especially as it is fairly early in the season.
I did manage to arrive at the lake in time – I noted that there were two campers in the area, though they sadly did miss one of the most breathtaking moments of the morning, when the sunlight starts by lighting Matterhorn's peak and gradually makes its way over the mountain's two visible faces.
Going back to Sunnegga was also a bit painful (I despise downhill walks), but I arrived in time to take the first funicular down (8.00 CHF, and all of 4 minutes), and the kind folks at Hotel Primavera let me check in at 9, after which I promptly took a shower and slept.
The Chez Vrony waitress comes, and I order a latte machiatto and a bottle of water. It's perhaps because I'm at 2130m above see level, or because I was foolish enough not to go after the river water flowing nearby, but the half a liter of water sets me back more than the coffee at 6.50 CHF.
Sigh.
In another 20 minutes, the sky should turn from blue to red. It's funny, isn't it, that in the early mornings, the sky turns from blue to orange, and the same applies in the evening. The hunt for the golden hour is on.
Photographer's notes
Cost: 123 CHF with half-fare card from Zurich. 8 CHF (with half-fare card) funicular ride starting at 8:30am.
Total travel time between Zurich and Zermatt: 3 hours
Total altitude climb: 987m; 4 hours (quicker if you're fit)
Lenses carried: 24-70mm 2.8 II (most often used), 70-200mm 2.8 II (a dozen shots at most), 17-40mm f/4L (a few shots)
Weather and advanced preparation: Warm attire needed, though the climb was tolerable, once you paused it got fairly cold. Plan for 2 or 3 days in advance if the weather looks good in the mornings.
Hotel: Hotel Primavera let me check in at 9am, so that I could go to sleep during the harsh midday sun. 80 CHF per night
---
About the author: Rio Akasaka is a photographer born and raised in Switzerland. He spends his weekdays looking forward to the weekends exploring wild landscapes or traveling abroad. His other favorite places are County Wicklow in Ireland and Mount Cook, New Zealand. He is a Swarthmore College graduate. You can find more of his work on his website and Facebook page. This article originally appeared here.