Flickr to Drop Google and Facebook Login Options at the End of this Month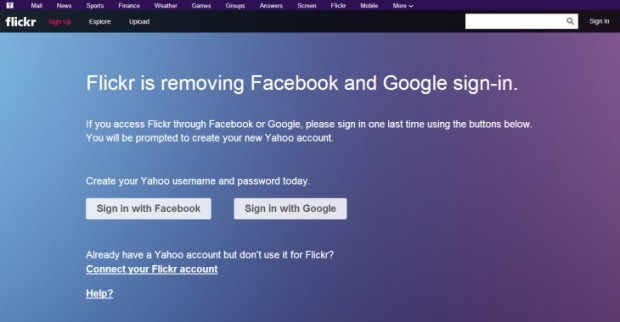 Earlier this year, Yahoo! announced plans to wean off the Google and Facebook-based logins for its services. The first victim was their sports service platform, and at the end of this month it's Flickr's turn.
Emails have already gone out to a number of users and will likely continue being seen over the coming days. In the email, Yahoo! states that Google and Facebook ID logins will no longer be accepted after June 30th. By then, all Flickr users who have not already done so will have to create a Yahoo! account and connect it to their respective Flickr account if they would like to continue using the service.
While not an overly dramatic change, it goes to show that Yahoo! is serious about showing its users that it's capable of providing a proper, all-in-one platform on its own, without piggybacking off of other social media giants. If you're a user of Flickr and you don't yet have a Yahoo! account, you're going to want to head on over to their site and get that taken care of before June 30th comes around.
(via TheNextWeb)