Previously-Unseen Photos Show NASA Using Hawaii as an Apollo Testing Ground
How are these Apollo 17 astronauts riding around in their buggy on the moon without their spacesuits? You might wonder. Well, they're not. This photograph, captured in 1971, shows the astronauts taking their buggy for some field training test drives on Hawaii's Big Island.
The surface of the moon is a rather treacherous one for vehicles and humans wanting to travel it, so in order to properly replicate the environment, NASA decided that the volcanic island's vast, rocky terrain was a perfect testing site for the moon buggies back when the Apollo program was in full swing.
The photographs above and below show Apollo astronauts on their psuedo-vacations to the Hawaiian islands, testing out equipment that would eventually help them traverse large swaths of lunar terrain and even bring some of it back with them.
The photographs were found by PISCES' Executive Director Rob Kelso after he was determined to look for "lost" photos that showed Hawaii's significant role in helping to send these men to the moon.
After searching through a plethora of negatives, Kelso stumbled upon a photo archive at Johnson Space Center in Houston, Texas.
NASA burned a collection of images to a CD and sent them to PISCES this past February, and since then, the team has been piecing together a pair of murals to show off the images now hanging in their offices. Fortunately for those of us who live nowhere near the PISCES headquarters, they've also shared the collection online.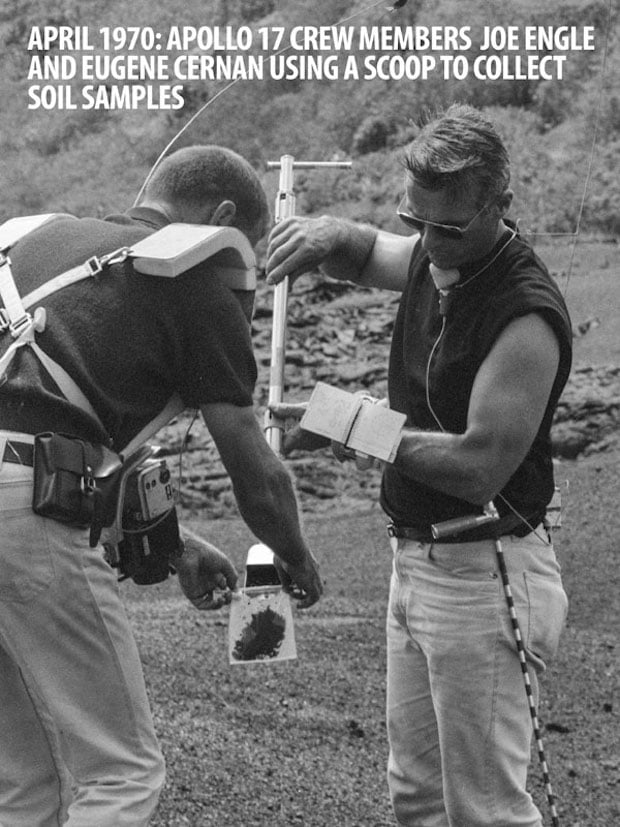 We certainly enjoyed the images, and we hope you do too, but as a bit of a bonus, here is a news piece we dug up by Honolulu news station KITV. The three-minute segment features a few of the images on slideshow while the anchors chat with Kelso about their significance.
(via Engadget)
---
Image credits: Photographs by NASA