Silent Storms: A Northern Lights Timelapse that Stands Out from the Crowd
Time-lapse photographer Ole C. Salomonsen specializes in the northern lights. But before you skip over this post because you've seen about a billion more aurora time-lapses this month, we suggest you click play and give Ole's work a shot.
In the two years I've written for PetaPixel, this and Ole's other time-lapse, Polar Spirits, are two of the most impressive northern lights videos I've ever seen. Beyond capturing spectacular time-lapse sequences that are expertly composed, he spices his creations up with real-time footage as well.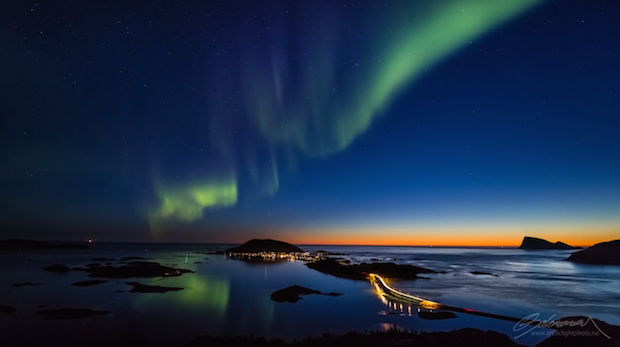 Here's what he said when we got in touch with him via email:
I find it particularly exciting filming the aurora in real time, since it is so difficult to do! And the 14bit RAW video option of the Magic Lantern is just phenomenal for doing this.

The 5D Mark III still struggles with color noise when pushing it, and lifting shadows, and often some banding, which the more expensive 1DX does not have. But, I have also filmed with the 1DX, and even if it has one stop advantage over the 5D3 in SNR/ISO, I prefer the RAW video on the 5D3 since there is so much more color information in RAW video… which gives you better results if handled well in post!
The time-lapse gets its name from the magnetic storms that create these dancing lights, and was filmed in Norway, Finland and Sweden (primarily around the Tromsø area, Norway) over the course of Autumn, Winter and Spring… which is no easy task.
In the video's description, Salomonsen explains how difficult it can be to capture high-quality aurora footage depending on the time of year:
Shooting through these different seasons raises different challenges, and opportunities. Late August/early September you are still battling against the sun, with the skies appearing very bluish. When the sun finally is low enough beneath the horizon, and there is still no snow, you have pitch black darkness, and it is difficult to light foregrounds properly, unless the moon is present… When winter has settled you have the most beautiful period, with snow-covered trees, icy reflective grounds, partially frozen rivers etc. In March/April when Spring arrives, sun is coming back, causing bluish skies again, but you also get beautiful colors from the sun in the horizon to combine with auroras, if lucky.
As mentioned above, Salomonsen likes to mix in real time footage to set his time-lapses apart. If you'd like to skip to those sequences you can find them at 3:17 and 3:38. But really, you're doing yourself a disservice if you don't watch the entire video.
For more info about this time-lapse, head over to Vimeo to read the full description. And if you'd like to see more from Salomonsen, be sure to check out our previous coverage and then head over to his website by clicking here.
---
Image and Video Credits: Video and screenshots by Ole C. Salomonsen and used with permission