The Entrancing and Surreal Self-Portraiture of Kyle Thompson
There are selfies, and then there are self-portraits. Make no mistake, these are two very different things, in the same way that a photograph differentiates itself from a snapshot. So while the word 'selfie' might be in the midst of experiencing its 15 minutes of fame, it would be an injustice to call photographer Kyle Thompson's gripping self-portraits 'selfies.'
Thompson, if you can believe it, is 21-years old and only got into photography at age nineteen. Plagued by anxiety his entire life, photography has become a sort of therapy, a way for him to express himself to the world… and the world seems to enjoy listening.
We've actually featured his work once before, but the majority of his photography actually doesn't feature other people. The brunt of Thompson's work consists of beautiful, striking and surreal self-portraits in which Thompson is bending reality to his will.
"I started taking self-portraits because I enjoyed going out alone," Thompson recently told The Daily Beast. "It was easiest because I am always available and… I wanted some way to channel my emotions. I felt self-portraits were the most personal."
His work is often set in abandoned houses or deep inside forests where he creates scenes of solitude that, on occasion, require that he set himself on fire. Here's a look at some of our favorite shots from his portfolio: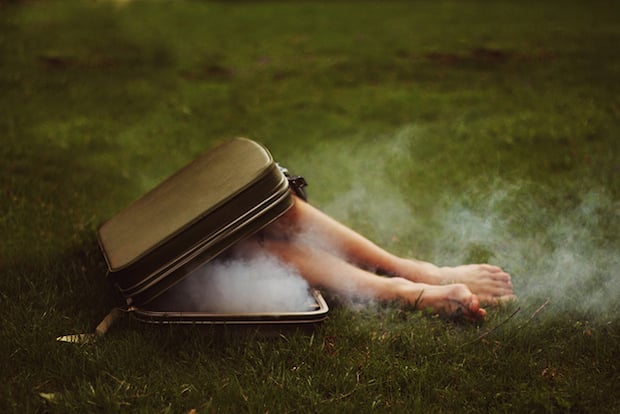 We are certainly not the first to take notice of Thompson's self-portrait work. When he posted it to Reddit last year, he earned himself over 3,000 upvotes and almost 2,000 comments; and his Kickstarter to raise money for a road-trip/photo book quickly raised more than twice its intended goal.
If you'd like to see more of his work, head over to his website or follow him on Flickr, Facebook or Tumblr by following the corresponding links.
(via Resource Magazine)
---
Image credits: Photographs by Kyle Thompson and used with permission.