GoldBug: Buy a Gorgeous 18 Carat Gold-Plated SLR or Get Your Own Blinged Out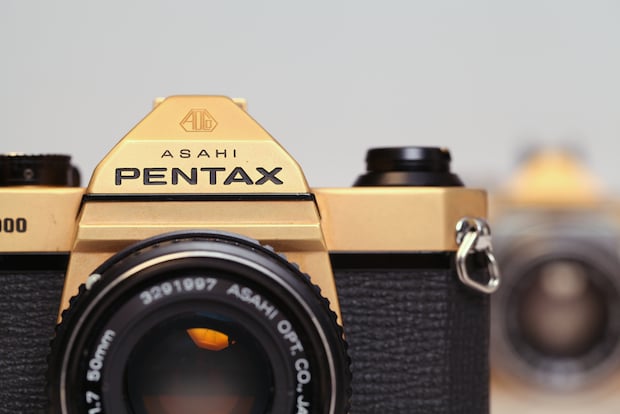 The holiday season is upon us, so it was perfect timing for photographer Oliver Blackwell and his wife Catherine to get in touch with us to tell us about their new ides/service GoldBug: an online store that sells beautiful classic SLRs made even more beautiful by plating them in 18 carat gold. And what's more, they're willing to plate yours if you send it in!
When you think gold-plated (or the more colloquial "blinged out") a gaudy monstrosity might come to mind similar to those fake-rhinestone-covered smartphone cases you sometimes see. This is nothing like that. The SLRs that come out of GoldBug retain all of their beautiful design — the gold-plated accents simply makes these gorgeous pieces of machinery that much easier on the eyes.
GoldBug was born when Blackwell's love of photography married his wife's love of jewelry (she's a jewelry designer). "Catherine works with gold a great deal and has plenty of experience in gold plating strange and wonderful objects (she has plated everything from bumble bees to lycees, mouse bones to sea horses)," explains Blackwell. "With Catherine working in her studio surrounded by my cameras it was only a matter of time before we fused the two together."
The first camera they successfully plated was an old Pentax K1000, and they immediately knew they were on to something. "[It] seemed like it was born to be gold," remembers Blackwell, and so they went in search of other suitable SLRs and began building a website.
Here are a few pictures that show off GoldBug's work:
The shop opened two weeks ago and already they're generating attention among the classic-camera-loving photographic community — cameras are selling out quicker than they can plate them.
"Each camera is different and throws up its own issues," explains Blackwell. "It is not a quick process and a lot of work goes into each one."
You can head over to their store and check out their current inventory by clicking here. Most of the cameras sell for between £525 ($850) and £700 ($1,130), with the Nikon F2 weighing in on the more expensive end at £1,230 ($1,990).
Or, if you'd rather plate yours or your loved one's in gold as a special holiday surprise, you can do that too — digital, film, 8mm, they'll plate whatever you send them and have extensive engraving experience to boot. Head over to the website for more info on all of the above.