CNET Doubts Sony 'Lens Cam' Rumors, Original Source Says 'Wanna Bet?'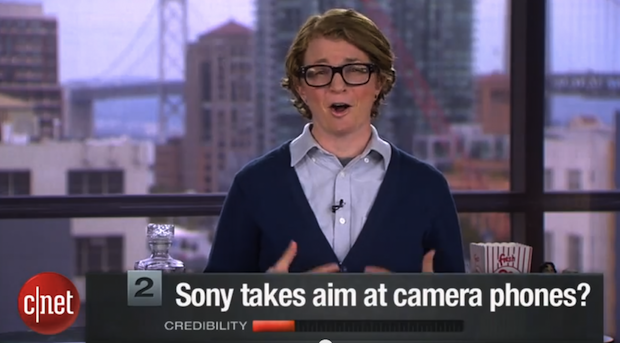 You don't get a lot of "scuffles" between tech and rumor sites, but a recent CNET Rumor Has It episode poked fun at a report by sonyalpharumors, and the rumor site has decided to respond in good fun.
The rumor in question is the exciting Sony "Lens Camera" from earlier this month. In case you haven't read our previous coverage, the story goes something like this: Sony is working on a smartphone-attachable lens complete with its own powerful image sensor, battery and memory. Basically, it'll turn your smartphone into an interchangeable lens camera.
The lens is said to contain the same sensor as Sony's RX100 II, with another rumor claiming that a smaller 1/2.3-inch 18-megapixel model is also in the works.
For their part, CNET doesn't buy it. Rumor Has It's Karyne Levy thought the idea was a bit far-fetched, even though sonyalpharumors is fairly certain this one's for real. She even went so far as to call out the rumor site for using too many exclamation points … ouch.
Sonyalpharumors, however, isn't offended. The site has responded with a tongue-in-cheek "Now, dear CNET … you wanna bet with me that the rumor is correct?" If sonyalpha wins, he gets to have a beer with the CNET folks next time he's in NYC. If CNET wins, sonyalpha will send a couple of "superb bottles of French wine" their way.
Because of the previous reliability of the source sonyalpha heard this rumor from, the site is confident no bottles of wine will make it to the CNET offices. No word yet on whether or not CNET will accept the bet, but it's nice to see everybody handling the situation in good fun.
The video is not embeddable, but if you would like to see the Rumor Has It episode for yourself, check it out on YouTube by clicking here.