Capture Flooded Views of Cityscapes by Getting Low Above Choppy Water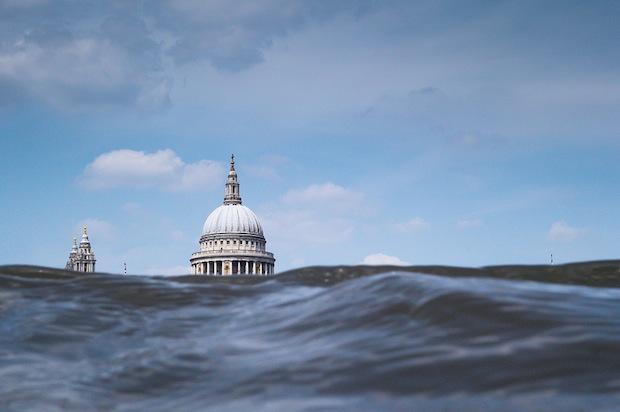 Photographer Rupert Jordan has been working on a quirky concept lately. He wanted to capture London's landmarks in an "unusual way," so he decided to use forced perspective to make it seem as if London is under water.
To achieve this, he slapped on his fishing waders and made his way into the Thames river. Standing in the water, he's able to place his camera low over the waves and capture that strange view he was after.
"The idea actually occurred to me in the winter and I tried to shoot it straight away, but I met with a few problems," Jordan told us via e-mail. Those problems included low light, not enough waves and, of course, trying not to freeze.
Once the weather warmed up he gave it another shot, and encountered a whole other set of challenges. "At low tide some beaches are revealed. So I had to check out the tide time tables for low tide," said Jordan. "there are a few spots where it's completely okay to go onto the beaches … but many are restricted. I had to leap over the railings to get down to the river opposite Battersea Power Station, the London Eye and Parliament."
He got what he was looking for though: the resulting photos show London landmarks such as the Battersea Power Station (made famous in part by being featured on the cover of Pink Floyd's Animals album), the London Eye ferris wheel, the Parliament Building and St. Paul's cathedral all poking out from the water, seemingly submerged.
In order to get the depth of field he wanted, he decided to use a small-ish sensor. And so instead of using an SLR, he opted for a Sony RX100 (kept safe in a Nauticam Housing), always shooting RAW and exposing around 1/800 of a second at an aperture of f/11 and an ISO of 400.
The hope is to take the project further and photograph more buildings, but not every building is ideal, and there are those restrictions he mentioned. "It does work better when they're taller than the surrounding buildings, and of course I need to be able to get down to the river opposite," explained Jordan. "There aren't that many places, so it might mean getting in a small boat …"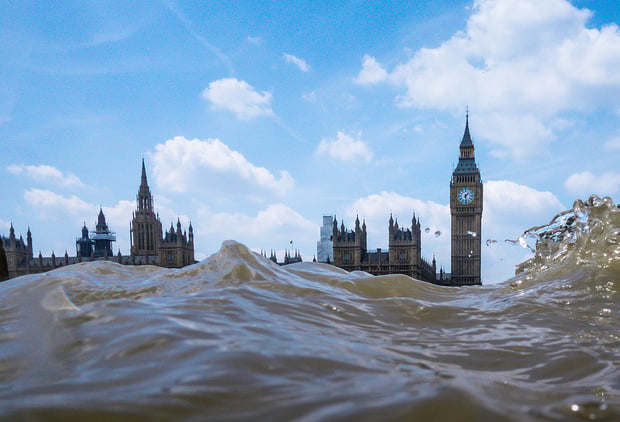 To see more of Jordan's forced perspective photography, check out the full River London set by clicking here, or browse through his whole portfolio here.