5 Fantastic Vine Users You Should Follow Right Now
I've never been a huge fan of the social networking video service, Vine. Not for any real good reason, mostly just because I was already perfectly content with the amusing feed of static images my friends provided through Instagram. Also the Twitter inspired 6 second time limit, while somewhat alluring considering my short attention span, also meant there would be no videos of any real significance. Or so I thought.

Recently though I decided to buck my hasty judgements and give it a second chance with a fresh start. While doing so I decided to seek out some of the most entertaining and creative minds on Vine so as to provide the best argument to sway me from my previous held bias against the app and I'm happy to say it worked out quite well.
What I've found has not only swayed me to see Vine's appeal but also made me somebody who checks in daily and I feel like a lot of that credit goes to the particular users I started with. Since seeking these users out I've come to enjoy Vine far more than I ever expected.
So, in an attempt to do the same for you (and get it in front of you before it's totally irrelevant now that Instagram has added a video feature), I present five great Vine accounts you should be following right now.
Meagan Cignoli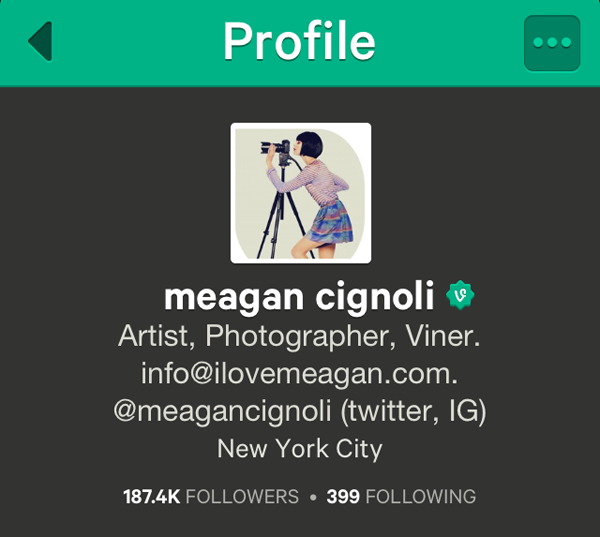 One part beautiful photography, one part lighthearted humor, and one part artistic inspiration, Meagan Cignoli's Vine feed is the perfect reason to get on the video based social media app. Scrolling through her videos, one of the first things you'll notice, after how well composed some her videos are (which isn't really surprising since she is a professional photographer after all), is just how cute her dog Stevie is. And she always finds inventive and adorable ways to work him into her videos. But that's certainly not all Meagan's feed has to offer. While browsing, you also may be moved by a small piece of stop motion animation illustrating an inspirational quote in the perfect way so as to avoid being sappy and yet perfectly serve its purpose. This is of course all in addition to her regular array of videos highlighting the fun and beauty of her daily life which serve as an inspiration in and of themselves.
Choice Cut: Sunrise Over New York
Matt Swinsky
Perhaps one of the first "genre" Vine accounts, Atlanta based Matt Swinsky regularly posts mini films following a sack masked horror character he's created that range from nightmarish to hilarious. The character, Lazer, does everything from murder hapless victims to party at the club to practice Street Fighter level high kicks. Regardless of what he has Lazer doing it's always unexpected, amusing, and very well crafted. In fact Swinsky's so good at creating a classic horror atmosphere with his unsettling sounds and strobe like editing he recently even won Tribeca Film Festival's Six Second Film Competition with one of his Vine videos.
Choice Cut: Lazer and Donald Close Shave (Tribeca Award Winner)
Adam Goldberg
Actor, director, and musician, Adam Goldberg has crafted himself an amusing Vine feed showcasing his many talents on a regular basis. Check in regularly and you'll find everything from amusing quirky video experiments to great comedic bits surrounding Goldberg's everyday life. But perhaps the most impressive and most surprising are the beautiful videos featuring his band, The Goldberg Sisters. In an already enjoyable collection of videos they manage to stand out in a gorgeous way and will surely be what catches your attention and keeps you coming back.
Choice Cut: No. 8
Charlie Love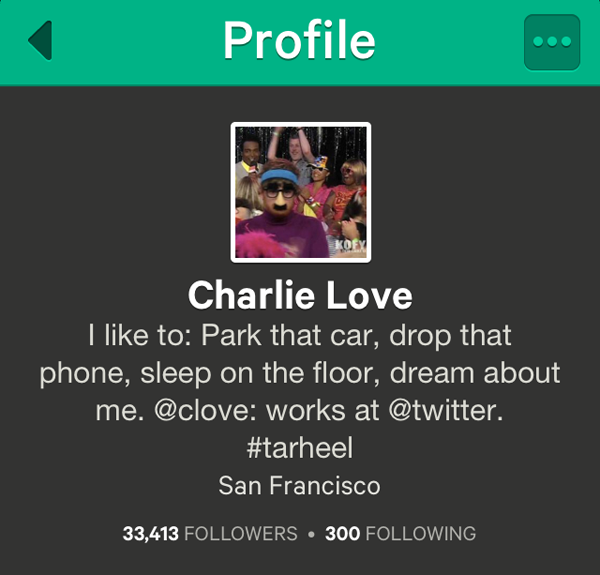 Much like Meagan Cignoli, Charlie Love's Vine account may be the perfect example of how to use the app and why you'll come to love checking it out on a daily basis. His videos often jump between amazing stop motion animations, comedy shorts, and gopro-esque POV videos. The one thing they all have in common though is they're all incredibly entertaining. Trust me, as someone who has been sucked into the black hole of Charlie's video feed far too many times recently I can attest, he's sure to catch your eye in a variety of ways as you browse on endlessly. Seriously, even his lake vacation videos are fun to watch.
Choice Cut: Commute
GE
If you happened to read my list about Instagram a while back you may start to think I'm moonlighting for General Electric or something but I promise it's just a case of the same inventive minds behind their amazing Instagram account infecting the people running their Vine account. And what's great is that through Vine they're able to touch on the science their engineers deal with everyday in an entirely different way. Instead of showcasing the mesmerizing insides of their machines they're able to show simple amusing experiments, fun quirky animations, and quick factual videos that are the type of thing likely to make science fun to a kid checking out his Vine feed. Or a fully grown man in this case. No matter which category you may find yourself it's worth checking out.
Choice Cut: What happens when you combine milk, food coloring and dish soap?
And one last bonus!
Tyra Banks
Ok, I'm half joking with this one. But only half. If you go watch you'll understand. Or maybe you won't. Maybe that's the point?
Choice Cut: All of them…
---
Image credit: Vine, Twitter by clasesdeperiodismo