Photos Created by Coating Negatives with Gasoline and Setting Them On Fire
Lisle, Illinois-based photographer Peter Hoffman's "Fox River Derivatives" project is a series of abstract photos that question mankind's relationship with natural resources. The photographs have a strange purple bubbles and colorations across the surface that are the result of an interesting technique: these images are what you get when you burn your negatives.

After the BP oil spill in the Gulf of Mexico in 2010, Hoffman has been playing with the concept of "Water and Oil." His experiments have been centered on using water and fossil fuels in the photographic image-making process, incorporating those substances as important components in the photos that result.
Hoffman started out by photographing sections of Fox River, a 202-mile-long tributary of the Illinois River that passes through both rural areas and "suburban sprawl." As he rode his bike up and and down the river, the photographer snapped various scenes using his medium format film camera.
Once the film was developed, Hoffman sprayed a layer of gasoline over the negatives, put them in a puddle of gasoline, and set them ablaze by throwing a match into the mix. After a short period of burning, Hoffman stopped the process by pouring water onto the negatives.
The photographs in this post are what resulted from this trial-and-error process after the negatives were printed.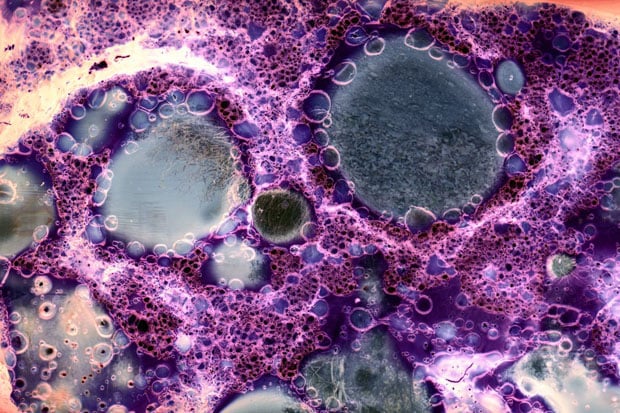 You can find more photos from this project in a higher-resolution over on Hoffman's website.
---
Image credits: Photographs by Peter Hoffman and used with permission