Photos of Everyday Gadgets Dismantled Into Their Individual Parts
Artist Todd McLellan gets to live out many a destructive child's dream: he takes gadgets apart with no intention of putting them back together — occasionally, he even throws the pieces in the air. The project, which was initially called the Disassembled series, has officially been dubbed Things Come Apart, and it's a photo series made up of both arranged and "falling apart" images of common objects that McLellan has broken down to their most basic components.
Here's a look at his process:
McLellan is the architect behind every step of the process. He breaks everything down, lays it out and photographs it all himself. By being the one actually taking the gadgets apart, he gets an intimate knowledge of the item, which helps him decide how to lay it out in the most visually appealing way.
Gear-wise, he uses a Hasselblad 555ELD with a Phase digital back. For the falling apart shots, he adds three high-speed strobe packs and four 3200kJ Broncolor flash heads. Each piece is laid out methodically, and then dropped through the frame as many times as it takes to get the perfect picture. He has a very specific idea of what the falling apart photos should look like, and he won't stop until he gets it right.
Over the course of the project, he's disassembled everything from cameras and phones to a piano, preserving all of the parts of everything he's ever torn apart (except for the piano). Here's a selection of photos from the series: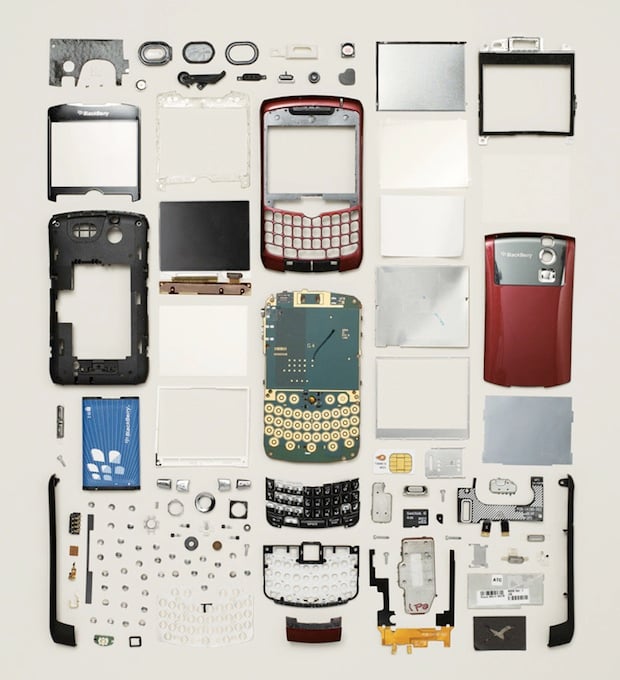 McLellan has gotten quite a bit of well-deserved attention for this time-consuming project. Thing Come Apart is on display at the Chicago Museum of Science and Industry until May 19th, and his photo book by the same name is set for publication May 7th.
To see more dismantled and falling apart photos of the household items we've all wished we could break apart at least once or twice over the course of our lives, head over to McLellan's website by clicking here.
(via Laughing Squid)
---
Image credits: Photographs by Todd McLellan and used with permission.