This Tiny Silver Pendant Can Beam Your Favorite Photo Onto a Wall
Back in 2010, we shared how artist Luke Jerram had created a wedding ring that can project tiny slide photographs when placed in front of a light source. After seeing that idea, Cambridge-based engineer John Ding decided that he wanted to make something similar for his sweetheart, Becky.
Ding spent the next two years designing a silver pendant that can project a photograph. He ended up creating what he calls the "Projecting Pendant."

Shaped like a tiny silver mug, the pendant can store a tiny color microphotograph. Its specially designed lens allows it to project the photo onto any flat surface with a 3000x enlargement, simply by shining a small (but powerful) light into the back.
Ding completed a prototype of his pendant in 2011, and gave it to Becky for their anniversary that year. He then decided to refine the design and commercialize the product as a small and sleek pendant anyone can buy.
6 additional months were spent tinkering out a commercial prototype, with much of the effort going into figuring out how to make a lens that projects a microphotograph just right — the lens has to be so precisely made that a 0.01mm difference will cause problems.
The pendant will be available in two styles: classic and luxury. The classic pendant features 3 gems, whereas the luxury one boasts 40.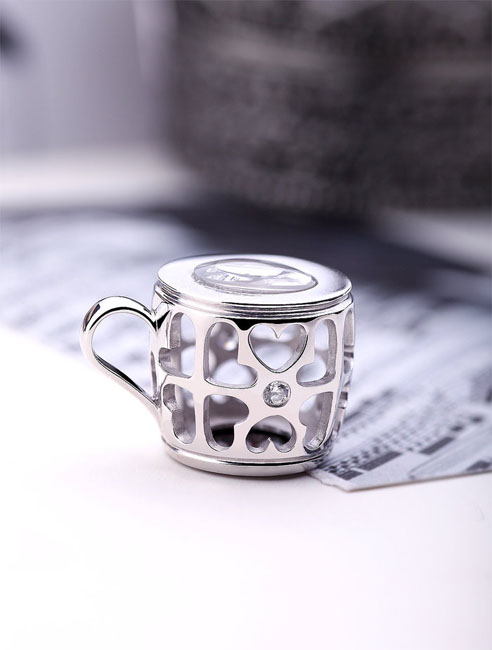 Each Projecting Pendant will come with: a custom message laser cut into the jewelry (optional), a tiny light, and a jewelry box to store everything in.
Here's what the pendant looks like when disassembled into its basic parts: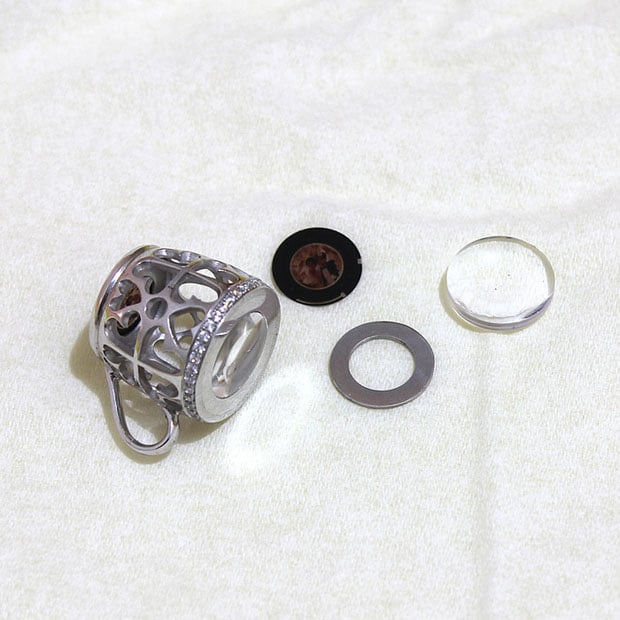 Here's a video in which Ding introduces his pendant and shows its projection powers in action:
Ding is currently raising funds and taking preorders for the pendant through Kickstarter, where a contribution of £70-£99 (~$106-$150) will reserve one of the first pendants when they start shipping in May 2013.