Photographs of Aircraft Shot from Directly Below
Jeffrey Milstein has two huge passions: photography and aviation. For his project Aircraft: The Jet as Art, Milstein visited airport runways between 2005 and 2009 and created large-scale photos of various aircraft at the precise moment they passed directly overhead.

Here's what Milstein has to say about the series:
This work combines passions for form, symmetry, color, and flight. As a typology of aircraft, these photographs open up conversations about the complexity and beauty of modern technology. They are an attempt to share my sense of wonder. Watching a mammoth Boeing 747 gracefully gliding overhead on the way to touch down never ceases to amaze me, but they are also a meditation on how technology can be a double-edged sword when things go wrong.
As a child, Milstein built as many model airplanes as he could afford. Once he got older, he began spending time at the end of airport runways, gazing up at the planes as they flew at low altitudes overhead at close to 200 miles per hour. His favorite location is close to runway 24R at the Los Angeles International Airport.
Wanting to share this perspective that he finds so fascinating, Milstein began bringing a high-resolution medium format camera to the airport to create images. The photos are then turned into massive 6×6-foot square prints.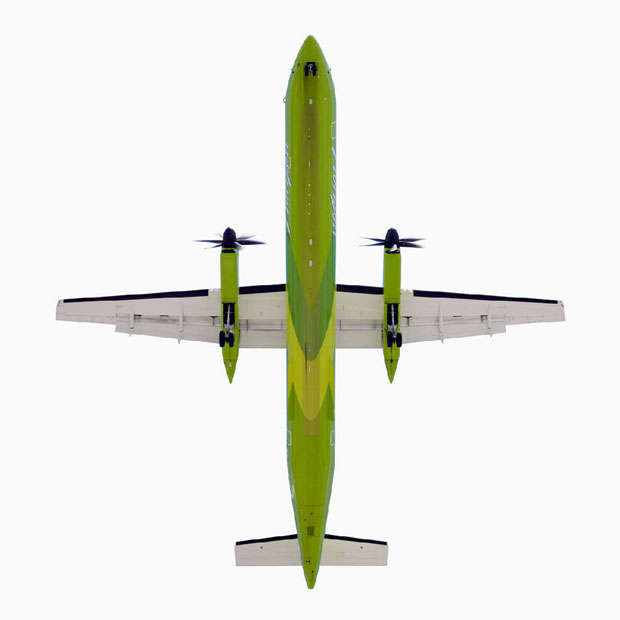 Milstein's work was just displayed at the Smithsonian National Air and Space Museum for a year, and will soon be going on display at the Reagan National Airport. You can see more of his work over on his website.
Aircraft by Jeffrey Milstein (via Visual News)
---
Image credit: Photographs by Jeffrey Milstein and used with permission