A Starry Sea of Cameras at the Unveiling of Pope Francis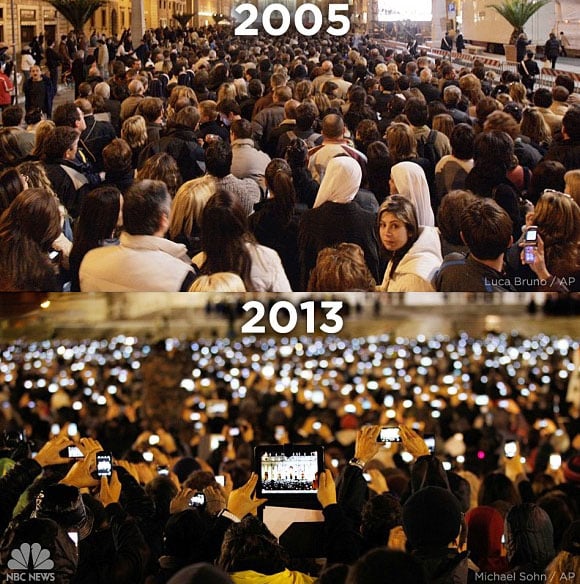 Here's a startling side-by-side comparison of news photos that has begun floating around on the social web. Both photographs show a large crowd gathered to witness the unveiling of a new pope. The top one was what AP photographer Luca Bruno saw in 2005 when Pope Benedict XVI was introduced, while the bottom one is what AP photographer Michael Sohn witnessed yesterday at the election of Pope Francis.

CNN's live news cameras witnessed the same thing as Pope Francis strolled out onto the balcony:
Here's the video showing the sea of cameras (the scene is at 40 seconds into the video):
Update on 12/16/21: This video has been removed by its creator.
Just eight years ago, the iPhone was still 2 years away from being announced and smartphone photography hadn't begun its encroachment in the photo world yet. Fast forward to 2013, and major world events are now being covered by a countless number of digital eyes on the ground. Go to a concert, a speech, or any location where major news is breaking, and you have a good chance of seeing exactly the same thing.
---
Image credits: Photographs by Luca Bruno/AP, Michael Sohn/AP, CNN