Colorful Photos of Paint Being Flung by a Spinning Drill
Swiss photographer Fabian Oefner calls himself a "curious investigator," and says that his mission is to "harness elemental forms of natural phenomena and capture them in the most stunning way possible." An example of this can be seen in his recent project titled "Black Hole," which features photos showing lines of color emanating from a "black hole."

Oefner shot the photos using paint, a rod, and a drill. After applying colorful globs of paint onto the rob attached to the drill, he switches the drill on and snaps a photo as the paint is being flung away from the rod.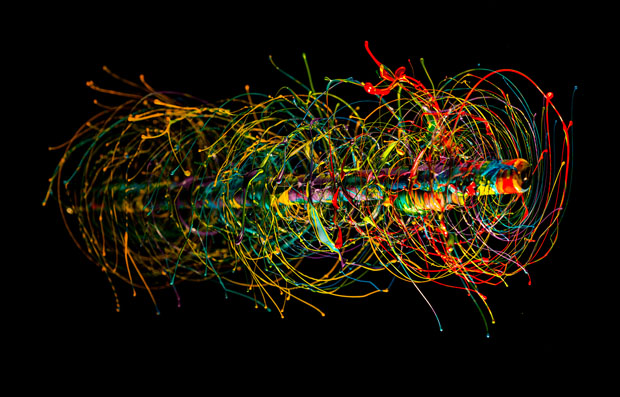 Oefner writes,
The motion of the paint happens in a blink of an eye, the images you see are taken only millisecond after the drill was turned on. To capture the moment, where the paint forms that distinctive shape, I connected a sensor to the drill, which sends an impulse to the flashes. These specialized units are capable of creating flashes as short as a 1/40000 of a second, freezing the motion of the paint.
This short video demonstrates the process Oefner used:
Here are some more of the resulting photos in the series:
You can view the entire "Black Hole" series over on Oefner's website.
Black Hole by Fabian Oefner (via Colossal)
---
Image credits: Photographs by Fabian Oefner