A Sneak Peek at the Google+ Photos App in the Chromebook Pixel
When the new Google Chromebook Pixel was announced a week ago, one of the new apps announced alongside it was for managing photographs. Photography played a bit part in the laptop's design: it has a 12.85-inch, 4.3 million pixel touchscreen (the highest pixel density of any laptop) that has a strange aspect ratio of 3:2 — the aspect ratio of classic 35mm film.


The new Chrome Photos app was created as a collaboration between the Chrome team and the Google+ team, and the influence shows: it looks remarkably similar to the photo experience on Google's social network.
Ease of use was one of the big things the development team focused on. Plug your SD memory card into your Chromebook, and your photographs are automatically uploaded to your Google+ account in full-res.
The app is designed for the Pixel's touchscreen and for social interaction. You'll find the same +1 and commenting options as the web version of the app.
To make things faster and easier for you, the app has special "brains" that can help you do preliminary organization of your photos based on image quality. It can determine which images are blurry and improperly exposed, and which are fine. This allows it to automatically select a subset of "good" photos when you'd like to put your photos into Google+ albums.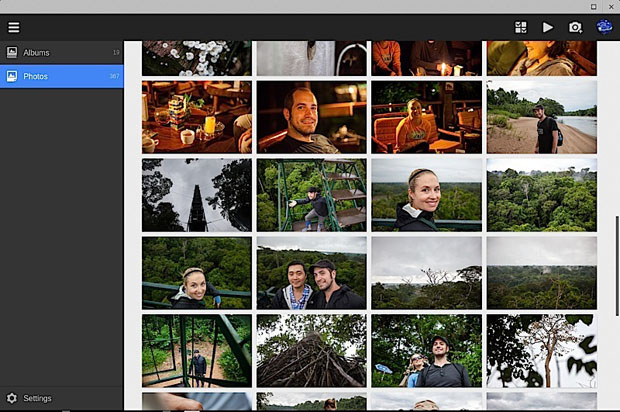 In addition to appearing on the new Chromebook Pixel, the app will also be available for other Chromebook models as well. You can find more of these screenshots in this Google+ Album by developer François Beaufort.
---
Thanks for sending in the tip, Leonardo!