Woman Photographs Herself Receiving Strange Looks in Public
Memphis-based photographer Haley Morris-Cafiero has long been aware of strangers making fun of her behind her back due to her size. So aware, in fact, that she has turned the whole concept into a full-blown photography project. Titled Wait Watchers, the series consists of Morris-Cafiero's self-portraits in public in which strangers can be seen in the background giving her strange looks and/or laughing.

The project was born when Morris-Cafiero was working on a separate project titled
Something to Weigh
. For one of the photos in that project, she snapped a self-portrait while sitting on some steps in Times Square.
After processing the film, she noticed that there was a man behind her making a face at her while being photographed by a female friend:
She noticed something similar in a photograph captured just five minutes later at a different location.
Morris-Cafiero then began setting up her camera in heavily trafficked public areas, composing the shots, setting a self-timer, and then stepping into the frame. The camera snaps a photo while she's doing everyday things (e.g. chatting on her phone or grabbing a bite to eat), and her hope is that the image also captures an interesting expression from at least one passing stranger.
I now reverse the gaze and record their reactions to me while I perform mundane tasks in public spaces. I seek out spaces that are visually interesting and geographically diverse. I try to place myself in compositions that contain feminine icons or advertisements. Otherwise, I position myself and the camera in a pool of people…and wait [#]

The images capture the gazer in a microsecond moment where they, for unknowable reasons, have a look on their face that questions my presence. Whether they are questioning my position in front of the lens or questioning my body size, the gazer appears to be visually troubled that I am in front of them [#]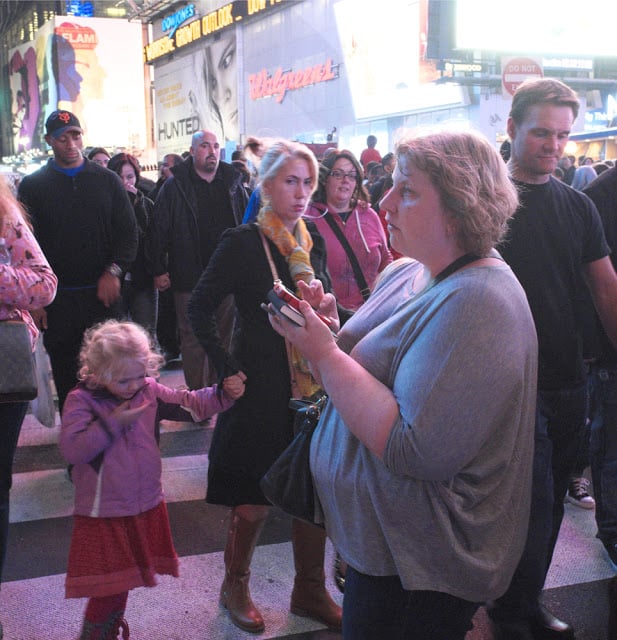 You can find more photos from this series over on Haley Morris-Cafiero's personal website.
---
Image credits: Photographs by Haley Morris-Cafiero and used with permission