Portraits of Wandering Ascetic Monks by Photographer Joey L
Brooklyn-based photographer Joey L has spent years working on an amazing set of portraits titled "Holy Men," which features religious ascetics from around the world.
Joey traveled to India (for the third time) in March 2011 and spent a month creating more photos of wandering monks in Varanasi, the holiest of the seven sacred cities in Hinduism and one of the oldest cities in the world. The subjects are men who have renounced all earthly possessions in their pursuit of spiritual liberation.

Traveling along with Joey were filmmaker Cale Glendening and photographer Ryan McCarney, Joey's assistant. Glendening captured behind-the-scenes footage throughout the month, and later turned the video into a 40-minute documentary film titled "Beyond." It was released a week ago and has since been selected as a Vimeo Staff Pick after quickly being viewed tens of thousands of times:
Here's what Joey as to say about these latest images in his project:
I began the Holy Men collection with a photo series from the North of Ethiopia focusing on Coptic Christianity. In this new series, Sadhus and religious students are the featured subjects. Although Coptic Christian monks and Sadhus live in different corners of the world, the connection all these subjects have to each other is profound. Almost every major religion breeds ascetics; wandering monks who have renounced all earthly possessions, dedicating their lives to the pursuit of spiritual liberation. Their reality is dictated only by the mind, not material objects. Even death is not a fearsome concept, but a passing from the world of illusion.

There is a large focus on Aghori, an intense sect of Sadhu infamous for overcoming all things taboo. They may meditate on corpses, eat human flesh as part of a sacred ritual, or keep a skull as a reminder of the impermanence of life.
Here is a selection of the photographs in the Holy Men series so far (some captured during the trip documented above, and some not):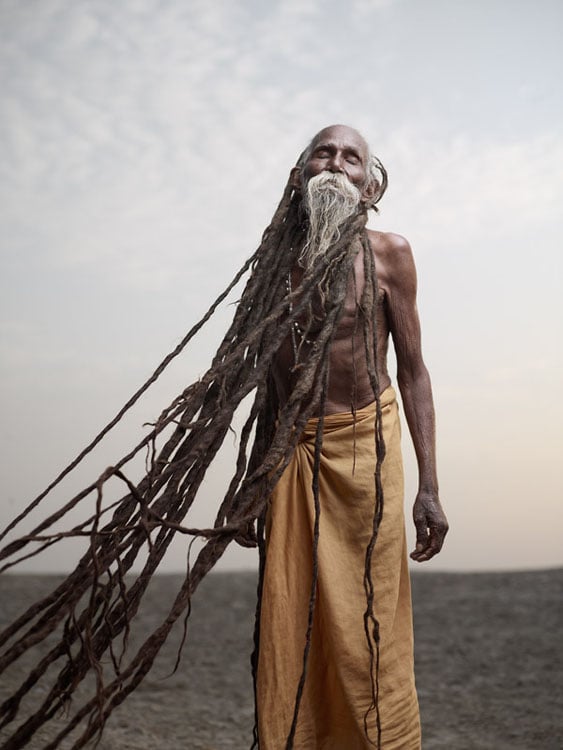 Joey has also written up some background information in a blog post if you'd like to learn more about the city, the culture, and the subjects in these photographs. You can follow along with Joey's latest work through his blog and his Twitter account.
---
Image credits: Photographs by Joey L and used with permission