Dazzling Underwater Photographs of Fish, Dolphins, Birds, and People
Hong Kong-based photographer Alexander Safonov shoots incredible underwater photographs showing scenes teeming with marine life.

A software engineer by trade, he obtained a diving license back in 2002 and began to experiment with underwater photography starting in 2004. In 2006 he picked up his first DSLR.
While he has traveled to locations all across the world for his images (places like the Cocos Island, Fiji, Galapagos and Raja Ampat), his favorite destination is the annual sardine run off the coast of South Africa, where massive balls of sardines float around like clouds of meat, and sharks and dolphins congregate to eat. Safonov's photographs often capture wide angle views of these frenzied feedings.
He writes that any photographer looking to photograph underwater predators should seek out one of these "bait balls", since you have a good chance of having more up-close encounters during a short dive than "the average diver sees during a life time." Here's his description:
What is the sardine run all about? It is huge school of sardines, some estimate 15 km long, migrating along the Wild Coast every year at winter for the reasons not completely understood by science yet. The school usually stays pretty deep, in the 40-60m range.

Dolphins are responsible for separating small portions of these gigantic schools into smaller ones called bait balls and pushing them to the shallow water where they are more comfortable with hunting. Various species of sharks take advantage of this opportunity presented to them by dolphins, since it is believed that moving pattern and density of big school disorients them, making feeding on the big school difficult — this is one of the reasons why bait fish always instinctively groups together then threatened.

Birds, usually covering big distances in the search of solitary fish in shallow water arrive in huge flocks and take advantage of these generous opportunities too. Game fish, like tuna and sailfish join this frenzy. Ultimately there are bryde's whales, capable of feeding on sardines, too. Result is unique hunting collaboration and feeding competition between different species, which is not only one of the most spectacular natural events on the planet but also puzzle box full of unanswered questions for the science.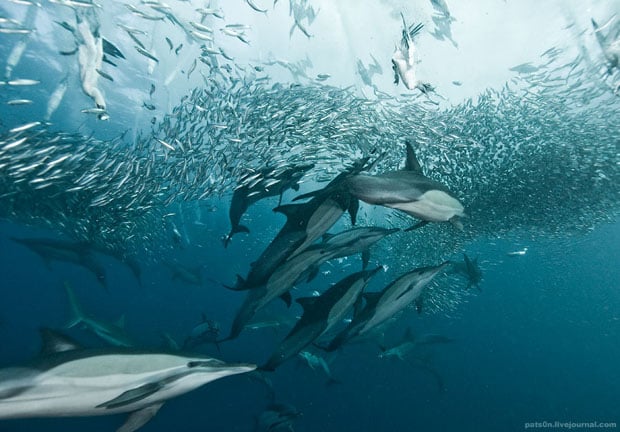 You can find more of Safonov's work on his blog, his Flickr, and his 500px.
(via Colossal)
---
Image credits: Photographs by Alexander Safonov and used with permission