Photographs of 19th Century Paintings Recreated on the Human Body
For their project "Museum Anatomy," Chiang Mai, Thailand-based artists Chadwick Gray and Laura Spector recreated and photographed old paintings from around the world on a human body instead of a canvas.

To create each piece, the duo first contacts museums to ask for access to their collection of 19th century portrait paintings. They specifically look for paintings in storage facilities that haven't been exhibited in over 50 years (if ever). Once they find a work they'd like to reproduce, they either photograph it themselves or ask the museum for a professionally documentation.
The next step is to recreate the work on Chadwick's body. They do this by projecting the photograph onto his body and repositioning his body until they find a pose that works well.
Actually painting the painting onto Chadwick using special-effects make-up takes Laura 8-15 hours in one sitting.
Early photographs in the series were captured using a Mamiya RZ67, a medium-format film SLR, while newer images were shot with a Nikon D3000 or a Nikon D300 (the two had difficulty procuring the film they needed in Thailand). For future images, they're planning to upgrade to a digital medium format camera.
The resulting photos of a painted Chadwick are turned into large prints and have been exhibited in 12 countries around the world so far.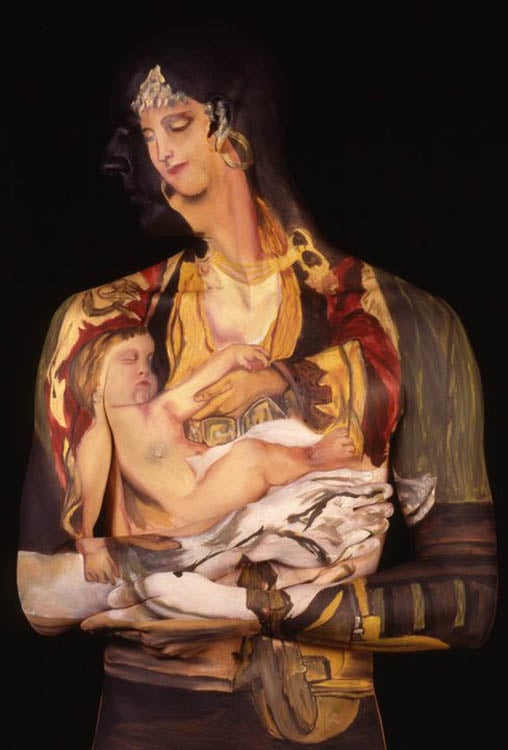 You can find all the photos they've created so far in this online gallery (warning: some of the pieces are NSFW).
---
Image credits: Photographs by Chadwick Gray and Laura Spector and used with permission