Winner of GDT European Wildlife Photog of the Year 2012: "The Stargazer"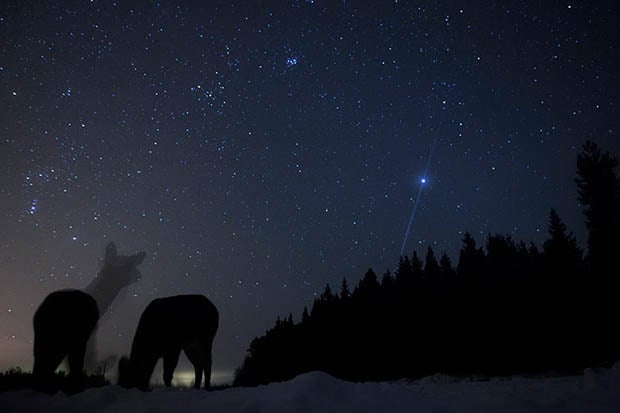 Finland-based photographer Tommy Vikars won this year's GDT European Wildlife Photographer of the Year contest with the above photograph, titled "The Stargazer." Vikars writes,
There are two brothers in my home village who look after the game in the area and feed them regularly at several locations in winter. I was welcome to photograph white-tailed deer at one of their feeding places at night. I buried my sound isolated camera box in the snow nearby. In my warm hide about 50 meters away I was ready with the camera's remote release. I used my other camera and a 300mm lens to check the scene. It was extremely difficult to see what was going on at the feeding place even though I had exhausted ISO and exposure values to their absolute maximum to give me at least a slight idea when to trigger the camera. I took many photographs, but often the deer would move too fast or in the wrong direction given the long exposure time. When I finally saw this image on my computer screen, I was very pleased with the result.
The photo was shot using a Nikon D700 and 16-35mm VR lens at f/4, 30s, ISO 2000.
---
Image credit: Photograph by Tommy Vikars/2012 GDT European Wildlife Photographer