Landscape Photographer of the Year 2012 Stripped of Title for Too Much 'Shoppin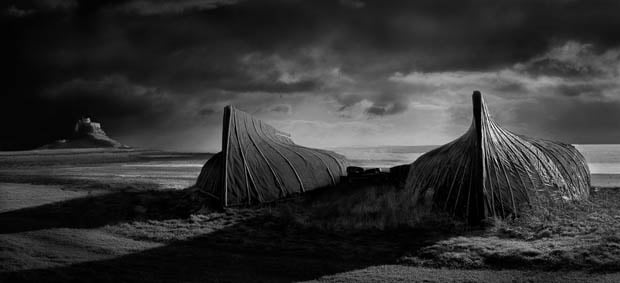 The winner of this year's Landscape Photographer of the Year contest, photographer David Byrne, has been disqualified and stripped of his title for violating contest rules regarding digital manipulation. His winning image, titled "Lindisfarne Boats" and shown above, is a black-and-white photo showing beached fishing boats with Lindisfarne Castle in the background.

Contest founder Charlie Waite of Take a View writes in an announcement that although a certain degree of digital editing is allowed, "the extent of the changes" to Byrne's image caused it to violate the contest's rules. Waite does note that it doesn't not appear that Byrne was trying to deceive the judges.
Photographer Tim Parkin was one of the people who first spotted something fishy about Byrne's image. Since Tuesday of this week, he has been doing impressive detective work and updating a post on his blog with evidence that Byrne's image broke contest rules.
After the disqualification was handed down today, Parkin received an email from Byrne saying,
I have to inform you after a conversation with Charlie Waite I have been disqualified from the Landscape Photographer of the year awards, unfortunately I didn't read the regulations and certain editing like adding clouds and cloning out small details are not allowed, while I don't think what I have done to the photo is wrong in any way, I do understand it's against the regulations so accept the decision whole heartily.

I have never passed off my photographs as record shots and the only reason this has come about has been due to my openness about how and what I do to my images. The changes I made were not major and if you go to the locations you will see everything is there as presented
In addition to forfeiting his title, Byrne also misses out on the £10,000 (~$16,000) prize that comes with it.
(via Take a View via Digital Camera World)
---
Thanks for sending in the tip, Craig!