Unusual Uses for Potholes in Large Cities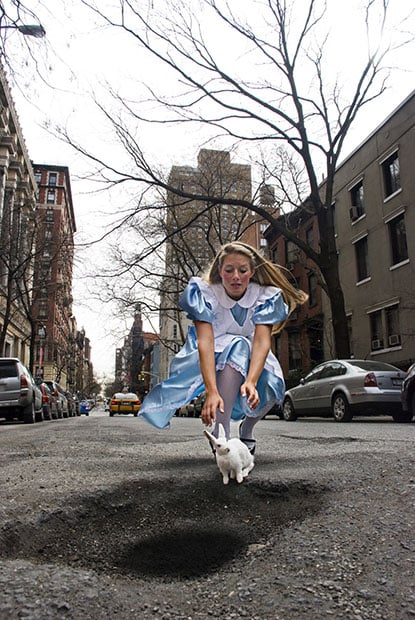 Husband and wife photography duo Davide Luciano and Claudia Ficca have a project called "Potholes" in which they stage unusual scenes around giant potholes found in large cities (e.g. Montreal, NYC, LA, and Toronto). The project started after they collided with one such pothole and needed a way to channel their frustration into a positive project, transforming something useless into something humorous and creative.

Our imaginative and diverse application for potholes led us on a relentless quest in search of the perfect pothole. On site we set up our props as required to build the set we desire. The entire shoot takes approximately 5 to 10 minutes to complete.

Our shooting sessions are evenly divided with each of us taking a turn behind the camera. Camera angles and model placement and direction are discussed and at times improvised on the set, we don't use photoshop to create the image or add props. Of course, the menial yet crucial task of watching for traffic is shared by all. Since the POTHOLES series is shoot entirely on location during uninterrupted traffic, vigilance is key. [#]
Check out more photos from the series on its website.
---
Image credits: Photographs by Claudia Ficca & Davide Luciano and used with permission