CES 2010: Day 2 Photo News – Skiff, E-Readers and the Re-birth of Publications?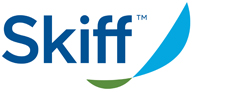 There hasn't been much directly photo-related news at CES 2010 today, but the announcements of newly redesigned e-readers might be key to drawing in a wider e-reader audience and — dare we speculate? — might bring some vigor back to traditional print publications.
While promising e-reader sale increases and recovering print publication's mojo might be an optimistic goal, the recently revealed Skiff reader design is so innovative that it might just catch on.
Skiff reader content will be designed to look much like the designed content on a physical copy of a publication. Thus, newspapers and magazines can retain their carefully designed layouts, which conveys ranked importance, dominant headlines, featured artwork and photographs.
It may be a stretch, but Skiff could potentially bridge the gap between those readers reluctant to quit their physical newspaper and magazine subscriptions and those readers who only read e-versions of publications. However, print media will still technically die (or continue its current trend of rarity) … but the content (and subscriptions and ad revenue) could be more accurately transferred onto a new medium.
In the long run, publishers could potentially stop bleeding money on printing and distribution costs, while upping their circulation — that is, if Skiff finds favor amongst thus far critical e-consumers and outbids the efforts of Amazon and other e-reader distributors.
The Skiff e-reader is extremely flexible and thin, with a display size 9 inches by 11 inches, and a thickness of 0.268 inches, and weighs 17-9/16 ounces (498 grams) — that's roughly the weight of four iPhones . It is made of silicon thin-film-transitors on a flexible stainless-steel substrate, which Skiff says makes the display is shatter-proof and crack-proof.
The device is 3G and WiFi enabled, has a USB 2.0 port, an internal memory of 4GB, a built in speaker, audio jack, an SDHC card slot, and a battery that lasts about a week before it needs to be recharged. Where does it fit all of that?
The color touchscreen display has resolution of 1200×1600 pixels at 174 ppi.
The Skiff e-reading service is set to launch with the Sprint 3G network this year.
Skiff has also partnered with the Hearst Corporation, the major news corporation that owns several newspapers including the San Francisco Chronicle, and has interests in several other major news groups, magazines, and major newspapers. LG Display and Marvell also had a hand in Skiff development, so it appears to be off to a hot start by connections alone.
Read more about Skiff and other e-readers at CNN.