Modern Motorcycle Diaries' Alex Chacon has spent 600 days on the road, travelled over 200,000Km (almost 125,000 miles) and been to some 36 different countries… and just in case those words don't inspire sufficient wanderlust, he's rubbing it in your face with an amazing video 'selfie.'
We've told you about Chacon and Modern Motorcycle Diaries before — you can read all about that here — so we won't spend time rehashing the details. Basically, shortly after graduating from the University of Texas, he decided to sell everything he owned and travel around the world while raising money for charity… the difference between him and every other graduate that has these dreams is that he ACTUALLY DID IT.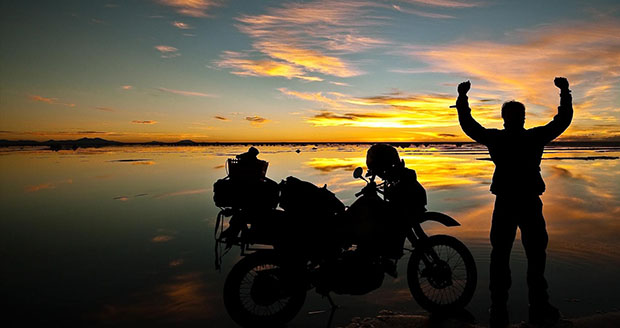 Around the World in 360-Degrees — 3-Year Epic Selfie is his most recent video, and it's packed full of spectacular vistas from all over this pale blue dot of ours. So watch the video, check out our previous coverage to learn more about the enviable life Chacon is leading, and then head over to the Modern Motorcycle Diaries for even more wanderlust-inducing imagery.
---
Image credits: Photograph by Alex Chacon and used with permission