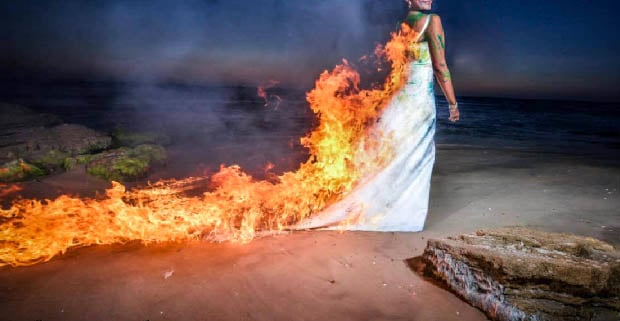 Most portrait/wedding photographers are familiar with "Trash the Dress" sessions. A client, dressed in a gorgeous formal gown is photographed in a location in a less than elegant outdoor location, one usually involving water, and in the process the dress becomes "trashed." It's a fun juxtaposition and it's been popular for some time, but water and mud are one thing…
FIRE is another.

A video surfaced on Facebook today and it's making the rounds. It features a beautiful woman on the beach dressed in what looks to be a wedding gown. As she stands with her back to the photographer, an assistant douses her in a liquid and then SETS FIRE to her dress. As the flames engulf her, she runs into the ocean, leaving the assistant to extinguish the flames still left on the beach:
I love pushing the envelope of creativity, but we might have pushed it over the edge on this one. What say you?
---
Image credits: Photograph and video by White Studio Photography