Photographer Takes 964 Photos of Paris to Create Epic Hyperlapse Video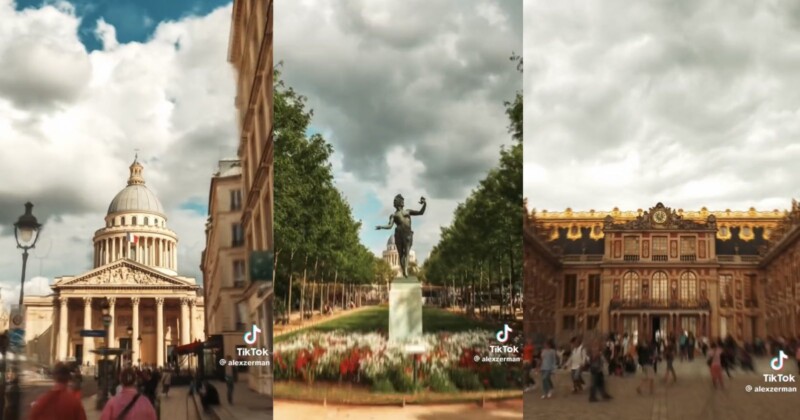 A photographer took 964 photos of Paris to create a truly epic hyperlapse video of the famous city.
Photographer Alex Zerman, who is based in Los Angeles, took hundreds of photos in Paris, France, and spent between 40 to 50 hours editing the images to produce a hyperlapse video.
And Zerman's incredible efforts paid off when he produced a mesmerizing hyperlapse video that beautifully showcased the historical city.
The clip amassed over 3.1 million views on TikTok — which the photographer described as an unexpected and pleasant surprise.
"When I was planning my trip to Paris, I knew I wanted to capture the city in a way that's not achievable through an individual photo or normal videos," Zerman tells PetaPixel.
"I wanted to make something significant that gave the scope of how beautiful the architecture and Paris as a whole are.
"I had seen several hyperlapse videos on Instagram or TikTok and it gave me inspiration of how to interconnect each clip and potential transitions.
"I knew that I would need to take hundreds, if not thousands, of photos to get the amount of content needed to make a complete story of the city."
Zerman says that he used a Nikon Z6 with a 24-70mm to make the video. He used a combination of Lightroom, Photoshop, Premiere Pro, and After Effects. The editing process took him between 40 to 50 hours.
"To make a Hyperlapse video, you find a subject and pick a spot on that subject. You set the focus point of your camera on that same spot of the subject each time you take a photo," Zerman explains.
"The idea is to take a photo, take a step or two in one direction, take another photo, rinse, and repeat until you have about 60-100 photos.
"I did this with probably 25 plus subjects throughout Paris and intertwined them together to have consistent movement and some seamless transitions for the video."
More of Zerman's work can be seen on TikTok, Instagram, and YouTube.
---
Image credits: All photos by Alex Zerman.