AI Image of Tiananmen Square's Tank Man Rises to the Top of Google Search
The Tank Man photograph taken by AP photographer Jeff Widener is one of the most iconic images of the 20th century — But last week a Google search for "Tank Man" brought up an AI-generated image as the feature picture.
Google has since deleted the AI image that appeared at the very top of regular Google searches. The image in question shows a Chinese man taking a selfie in front of a tank, it was posted to the Midjourney sub-Reddit — a forum specifically made to post AI images.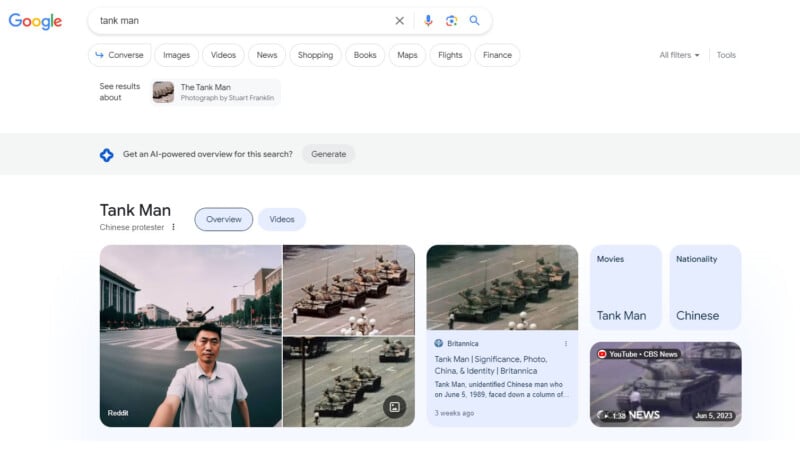 Alarmingly, the person who posted the image was always clear that it was created by artificial intelligence and defended themselves when someone accused him of "spreading misinformation" on Google.
"Bro, take it up with Google," writes u/Ouroboros696969. "I posted this image to a SUBREDDIT SPECIFICALLY FOR AI ART YOU DUNCE."
The Tiananmen Square AI image was posted six months ago to Reddit and a Google spokesperson tells 404 Media, which first broke the story, that the search giant has removed the image from its Knowledge Graph and Knowledge Panels.
"On Google Search, we build our systems to show helpful and high-quality information, while giving users the tools that they need to make sense of what they find online," says the Google spokesperson.
"Given the scale of the open web, however, it's possible that our systems might not always select the best images regardless of how those images are produced, AI-generated or not. In this case, we took action to remove the image from the Search feature, as our policies for this feature don't allow inaccurate content on public interest topics like this."
Not the Only Case of an AI Image Rising to the Top of Google Search
In June, Futurism reported that a Google search of "Johannes Vermeer", the Dutch baroque master who painted Girl with a Pearl Earring, returned an AI-generated version of the picture showing a girl with glowing earrings.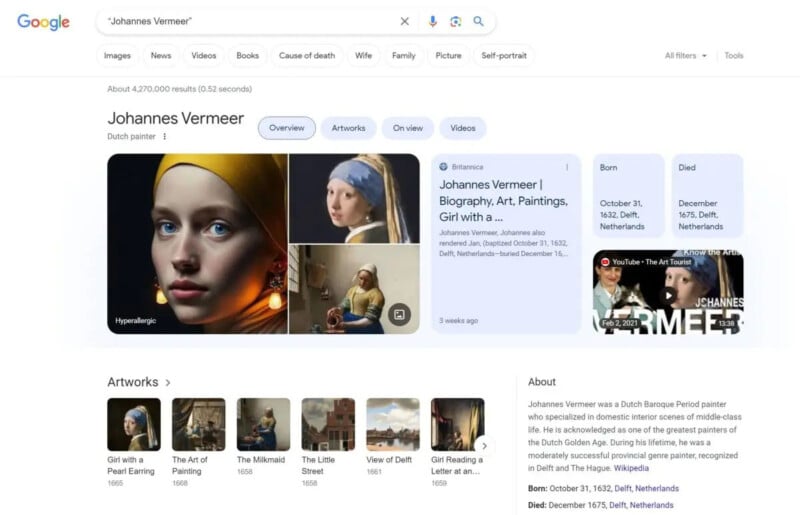 While that is no longer the top result, the same thing happened in May for Edward Hopper with the top result showing a painting in the American realist's style but it was generated by AI.
These instances raise serious questions on how search engines will be able to display truthful content as they contend with the huge influx of AI-generated images that are currently flooding the web.