Capitol Rioter Who Attacked Photographer is Sentenced to 5 Years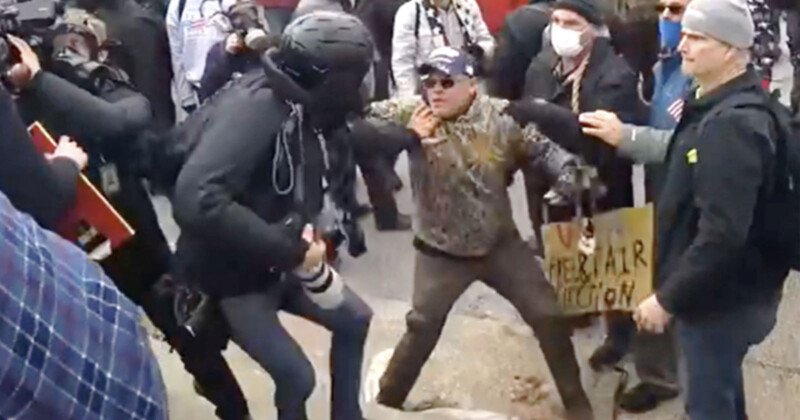 A man who injected himself with steroids before the January 6 Capitol Riot and subsequently attacked a photographer has been sentenced to five years in prison.
Rodney Milstreed was handed the punishment on Friday after his actions in January 2021 which also saw him throw a flagpole and a smoke grenade at police officers.
"In late 2020, he began injecting steroids to get 'jacked,' procured a wooden club, sought out ammunition supplies for his collection of assault rifles and other firearms, and prepared himself for battle. As he said on social media, he intended to "crack some skulls" at the Capitol," write prosecutors in a court filing.
Milstreed, who was arrested in May 2022, expressed sorrow his actions in court, telling U.S. District Judge James Boasberg that it was painful to watch his actions from that day after being show video clips.
"I know what I did that day was very wrong," Milstreed said in court.
Photographer Assaulted During January Riots
A video of Milstreed's attack was captured by the photographer's colleague. Taking place on the Upper West Plaza, he grabs the photographer's backpack and pulls him down a set of stairs.
"After the photographer stumbled to the bottom of the stairs, Milstreed shoved him and advanced toward him in a threatening fashion," prosecutors write.
Mistreed was updating his Facebook profile during the riots and noted the incident with the AP photographer.
"I made a charge for punching the camera guy but it was worth it. Hit him with everything God gives. The crowd cheered," he wrote.
In a private Facebook message to a friend, he said that it "felt good" to punch the photographer. Fortunately, the press photographer escaped the incident without injury.
"Man, I've never seen anything like this. I feel so alive," he wrote in another private message while sharing a photo of blood on a floor outside the Capitol.
Milstreed wasn't the only rioter to attack the AP photographer with others also being charged with assault. Alan Byerly, 55, from Pennsylvania was given two years and 10 months in prison last October.
---
Image credits: United States of America v. Rodney Kenneth Milstreed.