Photographer Sues Chrissy Teigen For Posting His Photo of Katie Holmes on Instagram
A photographer is suing model and television personality Chrissy Teigen for allegedly posting his photo of actress Katie Holmes without permission on her Instagram story.
In a lawsuit that was filed on Tuesday, photographer Ulices Ramales accused Teigen of taking his photo of Holmes and posting it on social media without consent.
According to the complaint filed in the U.S. District Court for the Central District of California, the photographer took a photo of Holmes wearing a black blazer and wide-leg denim pants while walking down the street in New York City on June 16, 2022. The image is registered with the copyright office.
However, three days later, on June 19, 2022, the photographer allegedly discovered that Teigen had posted his image of Holmes without permission on her Instagram story to her 42.6 million followers.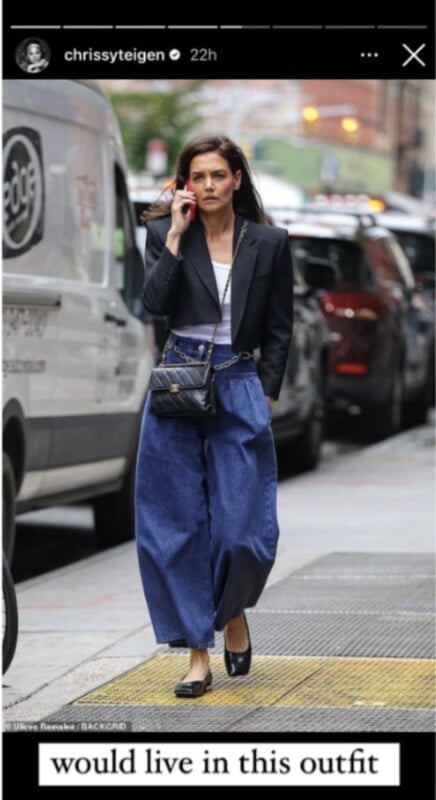 Instagram stories disappear from users' feeds within 24 hours of posting, but the plaintiff allegedly screenshotted the infringing post.
According to Ramales' screengrab, Teigen shared his copyrighted photo of Holmes wearing a black blazer and denim pants — declaring that she "would live in this outfit" worn by the actress.
Bloomberg Law reports that the photographer is now seeking damages for copyright infringement from Teigen and attorneys' fees, among other relief.
In the complaint, Ramales says that he has invested significant time and money into building his photography portfolio. He claimed that Teigen had knowingly infringed on his copyright and harmed Ramales' potential market for selling his photograph of Holmes.
Celebrities and Copyright
U.S. copyright law is quite straightforward when it comes to intellectual property and clearly states that the person who "authored" a work is the copyright owner, such as a photographer who takes a picture of a celebrity.
But despite this crystal-clear definition of intellectual property in the eyes of the law, some celebrities still refuse to license images for their social media.
Last month, Bella Hadid was sued by a photographer who claimed to have screenshotted their photo being used without permission on the supermodel's Instagram story.
Meanwhile, former supermodel Paulina Porizkova revealed that she is now "terrified" of posting on Instagram after she was sued by a photographer for sharing his photos of Ukraine.
Porizkova — who has over 1.1 million followers on Instagram — says that the copyright infringement lawsuit ended up being a costly mistake for her and she has been left fearful of re-posting photos on social media.
---
Image credits: All photos via court documents and header photo partly licensed via Depositphotos.