What It's Like Switching from a 2014 DSLR to a 2023 Mirrorless Camera
Despite huge advancements in camera technology, plenty of photographers still use DSLRs from the 2010s — like the Canon 5D series and the Nikon D800s. And while they remain great cameras, mirrorless rules the 2020s.
For a long time, I was one of those photographers. Up until very recently, I was shooting professional photo jobs on my trusty 2014 Canon 5D Mark III. But then I got my hands on a brand new, 2023 Canon R6 Mark II.
What's Changed?
In short, just about everything. They're both Canon cameras so I was immediately familiar with the camera's handling but, as soon as I started going through the menu I realized the R6 II is a very different beast.
Focusing
When flicking through the menu, I could not believe all of the options available to me. The AI servo had advanced by leaps and bounds with so many more functions. The focusing ability was important because of the test I was going to put it through — a high-octane rollerblading event in Athens, Greece.
Choosing which eye to focus on has been a feature on Sony mirrorless cameras for some time, but as an "old-school" DSLR user I was blown away by this option on the R6 II. Even just the face tracking left me super impressed. And while it didn't work every time in my fast-moving environment, it worked well enough.
Simply put, I was capturing shots on the R6 II that my 5D III would have absolutely no chance of getting in focus. That alone is worth its weight in gold.
Shutter
The R6 II can do 40 frames per second (FPS) with the electronic shutter activated. It is utterly breathtaking.
Going from a 5D III that shoots six FPS to the R6 II that shoots 40 FPS is a bit like going from a horse and cart to a Lamborghini. Back when I was covering rollerblading events on the 5D, I had to wait for the perfect moment to press the shutter. On the R6 II, I'm just spraying.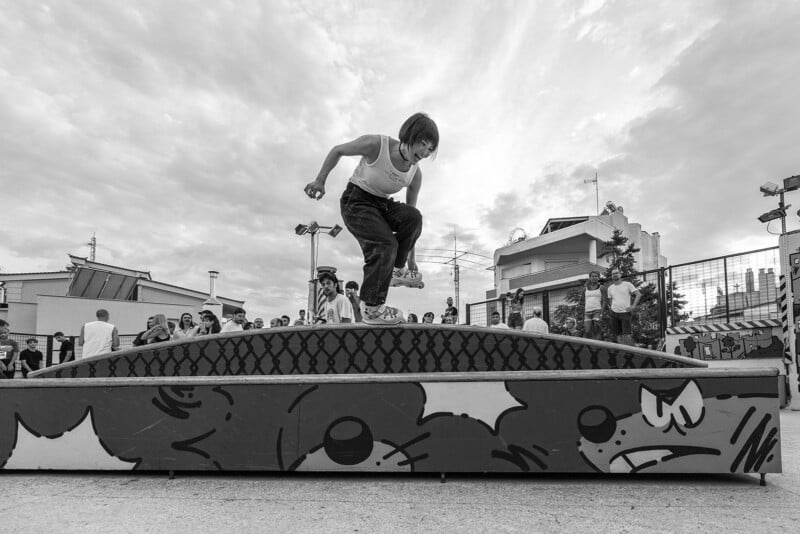 There's an old saying in photography: "If you have seen the shot in your viewfinder, then you have missed it." That was true of my 5D III, but 40 FPS lays waste to that.
Covering the action as I was, I got so many frames that I could choose the photo that captured exactly the right moment.
As darkness fell, I was planning to move to the mechanical shutter to avoid rolling shutter. But, I wasn't really noticing it on the back of the camera and didn't want to give up the incredible speed so I just kept shooting electronically.
Card Space and Battery
As excited as I was — taking 50 RAW photos for every moment — unsurprisingly I filled up two 64GB SD cards in no time at all. Next time, I will have to shoot more economically to avoid taking up so much disk space on my computer.
The battery drained fairly quickly and it did actually die just before the event finished. I didn't have a backup. Rookie mistake.
The Photos
The Canon 5D was a beautiful camera, capturing gorgeous colors. And while the R6 II was an upgrade, it wasn't an enormous step forward like the focusing and the frame rate.
As it got late, I pushed the ISO all the way up to 8,000 and noise began creeping into the photos. For some of these photos, I ran the AI-powered Denoise tool on Photoshop Camera RAW.
The combination of Photoshop RAW and Canon's full-frame sensor can pull otherwise unusable photos to some level of acceptability.
Conclusion
I love the Canon R6 Mark II, where has it been all my life?
In all seriousness, though, I speak to a lot of photographers for PetaPixel who still use the old DSLRs. And while these cameras are still excellent image-quality-wise, the technology in them is now antiquated.
I remember in the mid-2010s when some of my peers started going over to Sony. They raved about the Sony a9's ability to focus on the subject's eye. I never made that jump because, in all honesty, I couldn't justify it at the time.
But after my R6 II experience, I wish I would have. Everyone's situation is different, but the latest camera technology really is a must for so many photographers.
---
Credits: A huge thank you to Nicholas Kouros, Syeahskate, and Athens Bladehouse for putting on such a good event. All photos by Matt Growcoot.