'It's a Cougar!': Photographer Can't Belive His Luck Capturing a Mountain Lion
A photographer out on a family hike came home with a set of rare photos after he spotted a cougar high up on a ridge.
David Willingham was in a semi-suburban park in Bend, Oregon on June 18 when he spotted a creature far away above him. He tells PetaPixel that at first, he thought it was a bobcat.
"I pulled my camera up to take a photo of whatever it was. The second the camera focused I saw what it was," he says.
"It had stopped and the cougar was looking right at us. I started taking images as it looked at us and then it turned and took off."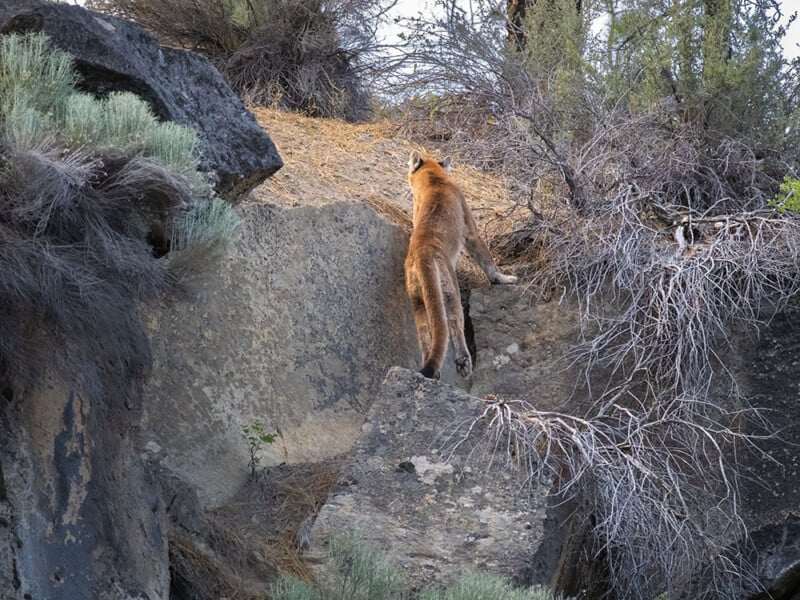 Willingham got so excited he was shouting "It's a cougar, it's a cougar!" to his family as he was taking the photos. Unfortunately, his wife and 13-year-old son did not spot the mountain lion but Willingham proudly showed them his images.
"The entire encounter didn't last for more than a minute from when I spotted it till it ran off," he says.
"I don't know if it ran off because it noticed that I noticed it. Or if it was already on its way out and away from us."
Willingham says he never felt in any danger but went into "autopilot" to get the best images he could.
"After the cougar ran off I showed the images to my family. We started walking back to the car and it hit me that we had just seen a cougar! I was very excited!"
How Rare is to See a Cougar?
Mountain lions are notoriously elusive creatures, but Oregon has one of the largest populations of any state with an estimated 4,000 individuals living there.
"We live in their home and habitat so they are around. It's just not an animal that lets you see them very often," says Willingham.
"There are sightings but not a lot of photographic evidence of those sightings, I got really lucky. Right place at the right time."
Shevlin Park is a mostly undeveloped large 1,000-acre park that sits rights on the edge of Deschutes National Forest making wildlife encounters there more likely.
Willingham frequently carries his camera with him; an OM-1 attached to a 300mm f/4. The photographer says that the 300mm got him "hooked" on wildlife photography. The cougar pictures were captured with a 1.4 teleconverter attached to the lens.
More of Willingham's work can be found on his website and Instagram.
---
Image credits: All photos by David Willingham.