Photographer Spends 10 Years Paying Homage to Dolly Parton
Photographer Alice Hawkins describes her decade-long Dear Dolly project as a "personal love letter" to the country star.
Hawkins's photos follow four "Dolly disciples," including herself, capturing cosplay photos of the women as they navigate life dressed in the iconic blonde wig while dragging a guitar around.
"I love and admire everything I know about Dolly Parton, she is my idol, and my aim is to create work that matters to me personally," Hawkins tells PetaPixel.
"I have always been fascinated by the various notions of glamour and America, I consider Dolly as the queen of both. America made a profound impact on me whilst I was growing up in Suffolk, [U.K.]"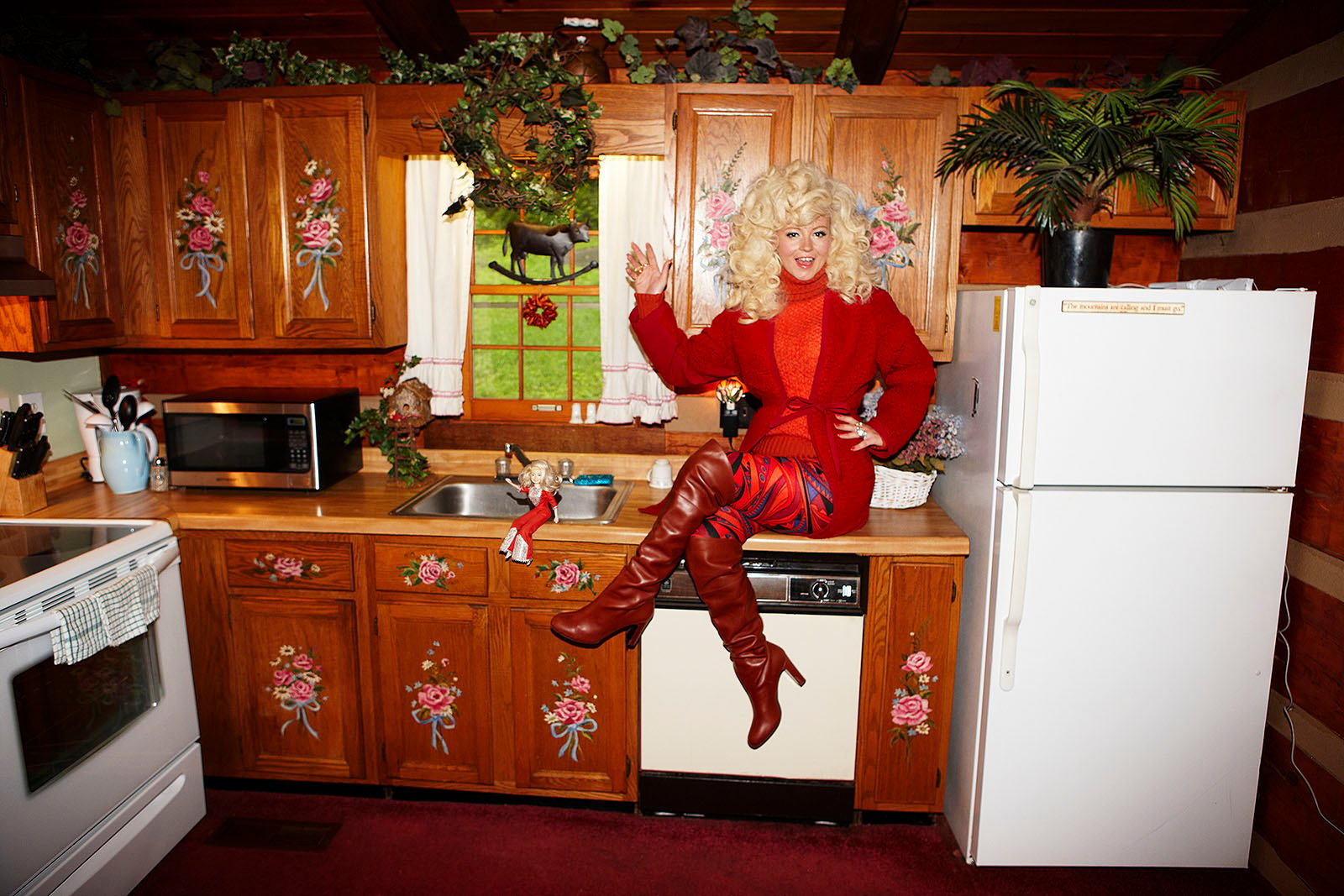 Hawkins has released a book of her Dear Dolly project which shows the Dolly lookalikes out in public as well as intimate shots at home.
"The three other Dolly disciples in the book live in the U.K. but illustrate Dolly's global impact; Claire is from Liverpool, Kelly is Australian, and Trixie is Canadian," says Hawkins.
"They all adore Dolly and her music too and that is what brought us together. Kelly is the only professional impersonator, the other two simply reminded me of Dolly," she continues.
"Meeting them felt destined, written in the stars. Everything about them and their personal environments felt like a perfect dream and collectively we feel closer to Dolly."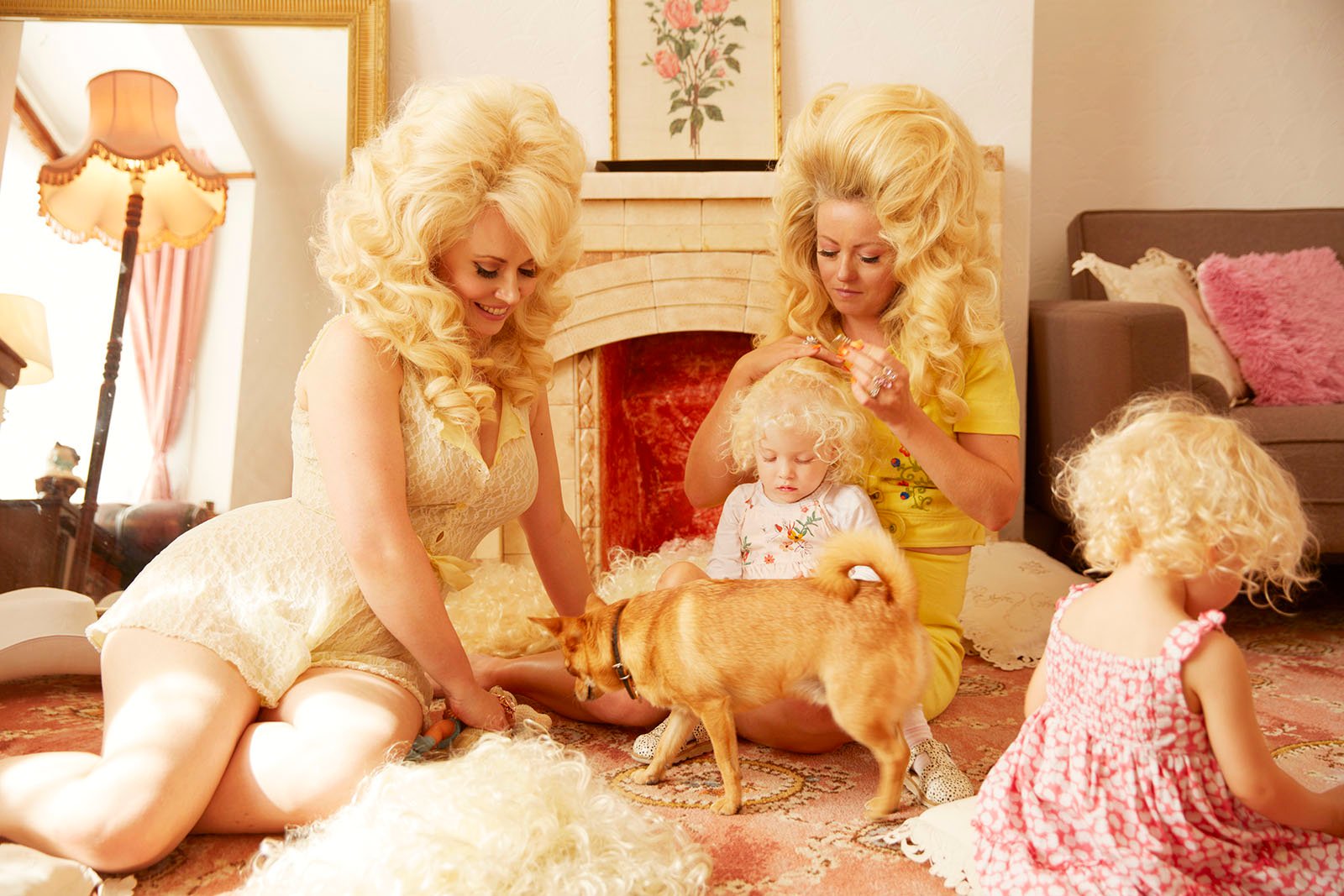 In the third chapter of Dear Dolly the viewers get a more intimate look at Hawkins — with photos of her heavily pregnant while expecting twins.
"I understand self-portraiture as an opportunity to declare who you are visually and who you aspire to be. Dear Dolly is my most personal project, and my decision to physically place myself in the image as subject further acts to communicate what Dolly means to me," she says.
"Photographically, it's not the easiest way to work yet it adds to the excitement, like taking a leap of faith, which, I think is good when you can't control everything."
'Backwoods Barbie'
The Jolene singer once famously quipped: "I'm not offended by the dumb blonde jokes, because I know I'm not dumb — and I'm not blonde either," cementing Parton's ostentatious and strong personality.
"Dolly is at once a 'real' person of extraordinary talents and someone whose persona is so much larger than life, that — in some magic way — she can mean different things to millions of different people everywhere," says Hawkins.
"She is a true individualist made up of many layers and contradictions. Her audience does not represent a singular group. It's multi-cultural and multi-geographical spanning all sectors of society and class.
"She seems to create an apolitical space where people who are different can live in harmony. She is a prolific businesswoman with a god-gifted talent for songwriting and a voice of an angel."
Hawkins adds that after she first saw Parton perform at a gig in London over 20 years ago that she was instantly bewitched by the star.
"Her appearance bedazzles, and her performance is mesmerizing. I left spellbound and I knew I had found my idol. She was everything I never dared to be. Her persona and presence gave clarity to the notion you can be radiant, sexy, blonde, and almighty at the same time."
Dear Dolly by Alice Hawkins can be purchased here. More of Hawkins's work can be found on her Instagram.
---
Image credits: All photos by Alice Hawkins.